Top 10 Metaverse in 2022!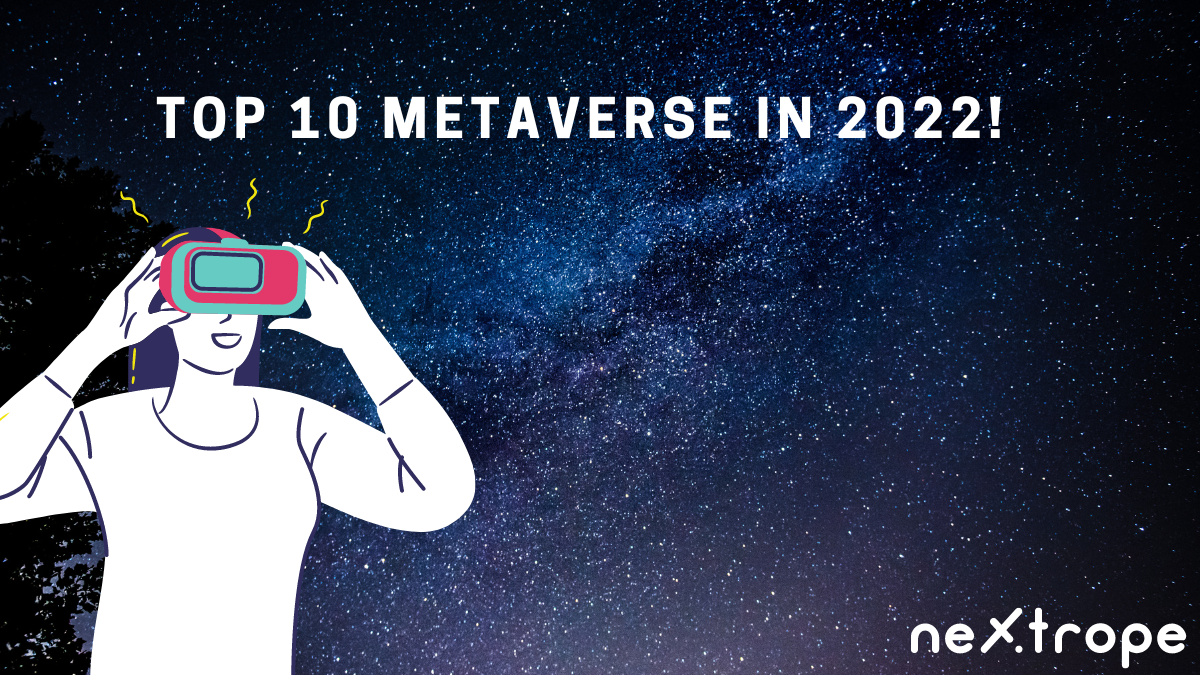 The current era of technological transformation is extremely attractive. This is due to implementations of networks 3.0, cryptocurrencies, or the metaverse. In this article, we will address the concept of metaverse and the best projects related to it. This is one of the most interesting concepts, where avatar users can interact with each other, perform daily activities and experience the same kind of feelings as in the real world. It's a combination of digital and real life. Which projects are the most interesting? What do they represent? We write about it below!
Development of the metaverse
The metaverse is an online environment where the social interactions we have become more multidimensional, leading us to engage and connect with others in unconventional ways. According to a recent study, the global metaverse market is expected to grow by up to 40% in the next eight years. Its value will exceed more than $600 billion. For this reason, it is worth knowing the best metaverse that will grow throughout the current year.
Gala (GALA)
Gala is a blockchain gaming platform that uses NFT in entertainment. This project is engaged in organizing a series of blockchain-based games, called social games, which focus on interpersonal relationships and making new friends. Currently available games developed in the ecosystem are:
Mirandus,
Spider Tank,
Town Star,
Fortified
Echoes of Empire.
GALA relies on authorities and wide ownership. Settlements are based on GALA's coin, which allows for :
managing the network,
awarding rewards and incentives to node operators.
Of course, GALA is also used when buying NFT digital assets in game stores and player markets.
Sensorium Galaxy (SENSO) metaverse
Sensorium Galaxy is a digital virtual world developed in collaboration with the world's top artists, producers and media companies. This metaverse consists of several worlds, each of which serves as a hub for a specific set of experiences. For example, PRISM - is the most relevant world of Sensorium Galaxy. Here, Metaverse users have access to exclusive VR performances by top artists on the charts. Who are we talking about? The top musicians themselves:
David Guetta,
Steve Aoki,
Armin van Buuren and many more!
Metaverse combines AI and virtual reality with the best entertainment content in the virtual reality galaxy. The project allows you to provide a multi-sensory experience that extends to other worlds! One of the most important features of the platform is the currency - SENSO - which uses blockchain technology to run an honest, transparent and decentralized economy. The token can be used for a variety of transactions, from creating new avatars to buying tickets to events and creating original content.
Decentraland metaverse
Decentraland is an already well-established metaverse project that is known among many participants. It offers to purchase virtual land for millions of dollars! In this metaverse you can:
buy your favorite brands,
participate in events,
meet new people,
build new business projects, and have a nice time.
All operations are very realistic and have an interesting atmosphere. For these reasons, Decentraland remains one of the best projects of its kind. The project is built on the Ethereum blockchain and is owned by users. Entities that enter it have many options. They can create many of their own configurations, avatars, markets, digital infrastructure and applications. The cryptocurrency that supports the entire vibrant virtual world is called MANA and can be easily purchased through the most popular cryptocurrency exchanges. Interestingly - Decentraland is also a good place for marketing, as it helps to advertise and promote many products. It is almost certain that the platform will continue to grow in 2022, as it has been very successful so far.
Axie Infinity
It's a metaverse, yet a game that has been enjoyed by millions of people around the world! The concept is based on cute animals. By playing Axie, you can earn funds. Ethereum - the technology that creates the game allows the use of cryptocurrencies in the form of Axie AXS and SLP. Each crypto has different functionality. It is noteworthy that AXS was among the top cryptocurrencies in the Metaverse, and in 2021 alone its value increased by about 200% compared to the previous year. SLP tokens are also called Tenderness Potion. They can be obtained as rewards in battle or adventure mode. As interest in the game increases, it is the value of its crypto and tokens that continues to rise. The ease of earning income and transferring it to cryptocurrency exchanges only improves the project's financial situation.
The Sandbox
This is a metaverse built on the Ethereum blockchain. Like Decentraland, this metaverse focuses on creating original content and games. The Sandbox is inspired by Minecraft and Roblox. Every participant in the metaverse can use their imagination and create worlds that meet their expectations. Players monetize their in-game experience and earn a SAND token through it. The above token is used throughout the platform and transactions and interactions can be made with it. What is the scale of interest in this metaverse? To date, more than 70 million unique worlds have been created on the platform, which has greatly expanded NFT. In addition, Sandbox allows its community to create games, resources and applications on its storylines.
Metahero
This world uses 3D technology and combines physical and virtual experiences. According to the platform, the metaverse involves creating surreal digital clones that users can customize and use in many Metaverse events. The project has partnered with Wolf Digital World (WDW). As a result, each 3D avatar has realistic body shapes and realistic faces, resulting in an extraordinary visual experience. An interesting feature is the provision of a scanner of their own bodies and the removal of these scans by NFT! In addition, avatars can be equipped with various skills and powers from different classes, such as:
Melee Expert,
Wizard,
Psychologist,
Summoner,
Elementalist,
Ranged Expert, or Assassin.
Players can promote new members and trade NFT with them. Settlements are created based on the Metahero token, which is becoming increasingly popular!
Somnium
This is a project that realizes the competition in the metaverse market. It is a 3D blockchain platform that enables unprecedented experiences. Unfortunately, Somnium itself has poor graphics. Nevertheless, the success is that it allows users to fully customize their avatar and the surrounding space. In fact, Somnium describes itself as an "open, social and sustainable virtual reality platform" that combines not only places where users can "live," but also:
entertainment
communication,
e-commerce and other aspects of the metaverse.
The difference between this project and the others is that it is based on Solana technology!
This gives us new possibilities for the metaverse. The advantages of this solution are:
building NFT galleries,
using VR avatars to visit concerts,
the ability to dance during the event (with the technical kit you have) and much more.

Undoubtedly, Somnium's success is also behind its cryptocurrency, which has become one of the most stable tokens currently available for Metaverse options.
Star Atlas
This is a unique project that was the first in the world to introduce the concept of AAA encrypted games. With the Star Atlas metaverse, you can explore the community, leave the world and return to it. The storyline, is another factor in the success of this game. Settlement and gameplay is based on two tokens:
ATLAS - the game's monetary system, which users can use when entering battlefields, exploring a new world, etc.
POLIS - allows players to participate in political intrigue on the platform.
Both cryptocurrencies are based on Solana technology. Players have to make decisions about the metaverse, vote on its course and construction, and develop individual features. Star Atlas This is one of the emerging and more interesting metaverse for 2022!
Bloktopia
The Metaverse Bloktopia project aims to create a unique platform where users in a 21-story virtual building can:
learn,
meet new people,
conduct business and try out various activities.
Initially, the metaverse will not be complete, so this world is heavily dependent on the participation and creativity of each user. Although not much has been revealed about the upcoming project in the coming months, there have been some interesting announcements about them. For example - it will be possible to buy World Wrestling Entertainment (WWE) space. It is also interesting to note that Bloktopia is trying to implement new content creation and revenue mechanisms for all who choose to live in this metaverse.
Cryptovoxels (CVPA)
This is a metaverse similar to Minecraft. It consists of a global digital infrastructure and blocks on which land users can continuously build various products. Assets can be traded on OpenSeaw in exchange for ETH, but Cryptovoxels also has its own currency - Cryptovoxels Parcel (CVPA). On this platform, each user retains ownership of the land, which is also NFT. What can you do here? Build your virtual properties, adding posters, signs or a soundtrack, or simply sell them. As one of the oldest projects in the Metaverse, Cryptovoxels has managed to create a great community that has grown over the years, resulting in increasingly creative and exciting NFTs.
As you can see, Metaverse is growing at a rapid pace. Buying properties, interacting with people, going to concerts, entertainment, meeting celebrities from show business - these are just a few of the solutions that make virtuality penetrate reality.
Never miss a story
Stay updated about Nextrope news as it happens.