Is the right technology for your NFT game everything?
Blockchain technology for your NFT game - choosing the tools
Choose a forward-thinking technology
Focus on smart contracts
The best blockchains for NFT game development
Summary
NFT games are gaining popularity among fans of this type of entertainment, as well as people who are interested in the cryptocurrency and blockchain sector. The creation of the game itself should be based on several factors that will affect its potential success. What to pay special attention to? We write about it in our latest guide!
Is the right blockchain technology for an NFT game everything?
Nowadays, more and more games based on various blockchain solutions, as well as related to smart contracts, are being developed. Nevertheless, behind this kind of entertainment, some developers know that there is a whole team of right people behind the success of the project. How to choose blockchain technology for your NFT game? This is just one of the questions you need to know the answer to. First of all, create a team of people who are familiar with the following technologies:
DApp
JavaScript.
HTML
CSS
Angular
React.js.
People who have expertise in these industries are programmers, UI designers, graphic designers, and program testers. For this, it's best to choose a company that has professionals in the aforementioned fields, as picking random freelancers will likely make your project chaotic. Moreover, hiring Freelancers makes the responsibility for their actions rest on your shoulders. Choosing a company that specializes in blockchain technology is the best practice, as the corporation in question has structures and employees who will take care of the project and constantly monitor its development.
Blockchain technology for NFT game - choice of tools
The most popular blockchain for creating NFT games is Ethereum. Although there are also other solutions on the market that allow you to create an NFT game professionally (more on that later), here are some additional aids that will make the project done with due diligence:
MetaMask - is a type of Ethereum wallet. What should be noted, it can be treated as a browser extension. Many entities running on Ethereum use MetaMask to store Ethers. Moreover, it is used to implement and execute smart contracts. Additionally, MetaMask is a place of communication between developers and the blockchain. MetaMask is considered a secure and standards-based system:
-ERC-20
Ganache - Ganache is a popular program for testing the created application. It is a component provided with Truffle Suite tools.
Web3.js - This is one of the more popular JavaScript APIs of Ethereum. It is also a collection of important databases and libraries. It allows developers to interfere with remote or local Ethereum nodes.
Truffle- is a toolkit that has a wide range of applications. It allows you to create and implement smart contracts, which are the basis of a good NFT game.
Remix: Remix is a popular DApp solution that is used to code Solidity smart contracts for Ethereum.
Ropsten Test Network - This is where you will test the smart contracts you have created.
Choose a technology by thinking ahead
When looking for the best blockchain technology for your NFT, you need to consider several parameters. Here are the elements you need to evaluate prospectively:
Fork - Remember that it is the uniqueness and rarity of NFTs that makes them so valuable. A hard fork would pose a serious threat to these aspects as the sanctity of NFTs would be questioned in such a case. It is important to note that NFTs in the "old" blockchain could eventually devalue completely. Therefore, it is important to create NFTs on blockchains that are fork-proof.
Smart contracts - The robustness of smart contracts is a key factor when it comes to the overall security of blockchain technology. Therefore, writing bug-free, clean and secure code is crucial. We mentioned the above applications that can analyze them. This is important because smart contracts need to undergo rigorous and complex testing to know that the user is experiencing the highest level of NFT play, performance, and resistance to potential bugs or attacks.
Token Development Costs and Transaction Costs - In addition to the issues we have discussed so far, there is one more issue to consider - cost-effectiveness. When doing NFT-based transactions, you need cost-effective solutions because they don't always involve multi-million dollar transactions. Gaming consists of small items, characters, skins, equipment, etc. Make it safe and profitable to trade them. Microtransactions are king in this case when it comes to settlement.
Security - This is probably the most important factor you need to consider when creating an NFT game. Blockchains are vulnerable to many types of attacks such as man-in-the-middle. How to solve this problem? Note that platforms running with a proof-of-work consensus mechanism are generally more vulnerable to attacks where attackers can control a large portion of the network's computing power. The result of such an action is loss of account access, data, and money. It is worth implementing alternative consensus mechanisms such as proof-of-stake.
Speed of transactions - this is the factor behind the success of a well-built NFT game. The transfer of payments between entities should be immediate, transparent, and, above all, secure.
Focus on smart contracts
It is worth developing smart contracts for the right front-end functions and cryptocurrency tokens. To code them, follow these steps:
Review smart contracts from gaming projects that inspire you.
Use the Remix IDE to code them.
Keep it simple. This will make it easier for you to debug them.
Sort smart contracts with tools from Truffle.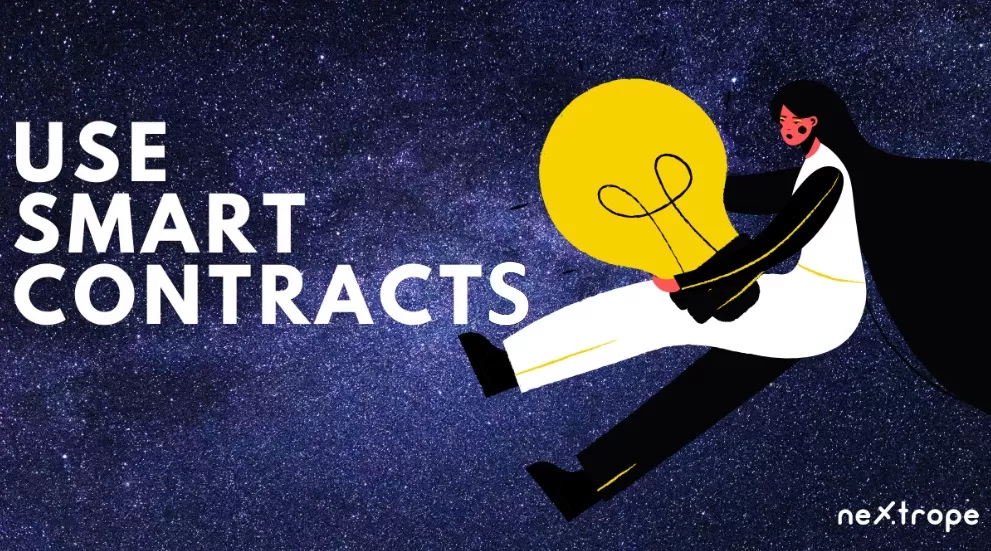 Remember that once you implement smart contracts, you won't be able to make modifications to them. This means that you need to test them well and conduct a robust audit. This is not a simple task, as you need to perform the following steps, among others:
Locking down the source code;
Understanding the project and studying the project documentation;
Initial code review;
Static code analysis;
Code quality analysis;
Detection of common vulnerabilities;
Functionality analysis and many more.
So, invest in a company that has experts who can analyze the above information as it will save you time and money.
Best blockchains for NFT game development
When we have seen several different elements to consider when looking for the best blockchain for NFT game development must move on to specific solutions.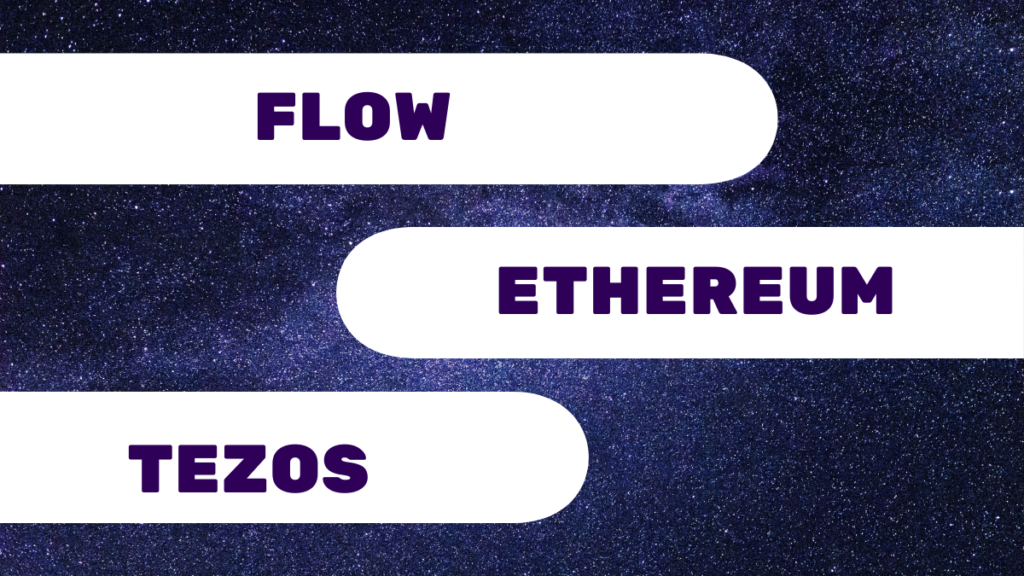 Below are the most popular blockchains that will help you succeed in gaming:
FLOW - This is a developer-friendly blockchain, especially when it comes to creating marketplaces and digital assets. The platform strives for scalability with updated smart contracts written in the Cadence programming language. It is worth noting that Flow supports a multi-node architecture for collection, verification, enforcement, and consensus, which greatly streamlines the entire NFT development process.
Ethereum - is currently one of the most popular technologies used in the NFT gaming industry. Many leading NFT marketplaces are using the Ethereum network, including Decentraland, SuperRare, OpenSea, and Rarible. This solution is extremely popular because it is simple and transparent. Basically - you just upload a file and fill in some details.
Tezos - The last option to consider is Tezos, which is a blockchain with an NFT marketplace called TRUESA. TRUESA's main goal is to reduce its carbon footprint. According to official information, the platform consumes 2,000,000 times less energy compared to other NFT systems because it optimizes CPU usage. If you are eco, then you can count on Tezos as an important partner in your activities and green approach to NFT development.
Summary
Gaming and cryptocurrencies is an industry that complements each other. Blockchain technology itself is still characterized by a kind of freshness and ongoing discovery. It provides functionality, transparency, and security. However, it is hard to find companies and developers who have years of experience in it. When creating an NFT game, analyze not only your idea in terms of storyline, playability, and graphics but mainly the technology and the team that will help implement and test it. No game, regardless of the storyline, will be able to succeed if it is flawed or fails to provide capital security and account access to its users. This is why it is so important to create it perfectly from start to finish.