Layer 2 solutions stand out as a guiding light for scalability and improved user experiences. One such intriguing development in recent times is the inception of bridges, particularly the Arbitrum to Polygon bridge. These bridges represent more than just technological wonders; they symbolize progress towards a more interconnected and seamless blockchain environment. Throughout this article, we will examine the intricacies of two prominent Layer 2 platforms, Arbitrum and Polygon, and underline their interoperability's significance.
Layer 2 Solutions
While revolutionary, blockchain technology has faced its share of obstacles. Scalability has proven to be a considerable barrier, as congestion and high transaction fees afflict prominent networks like Ethereum. Layer 2 solutions have emerged as a viable response to these problems.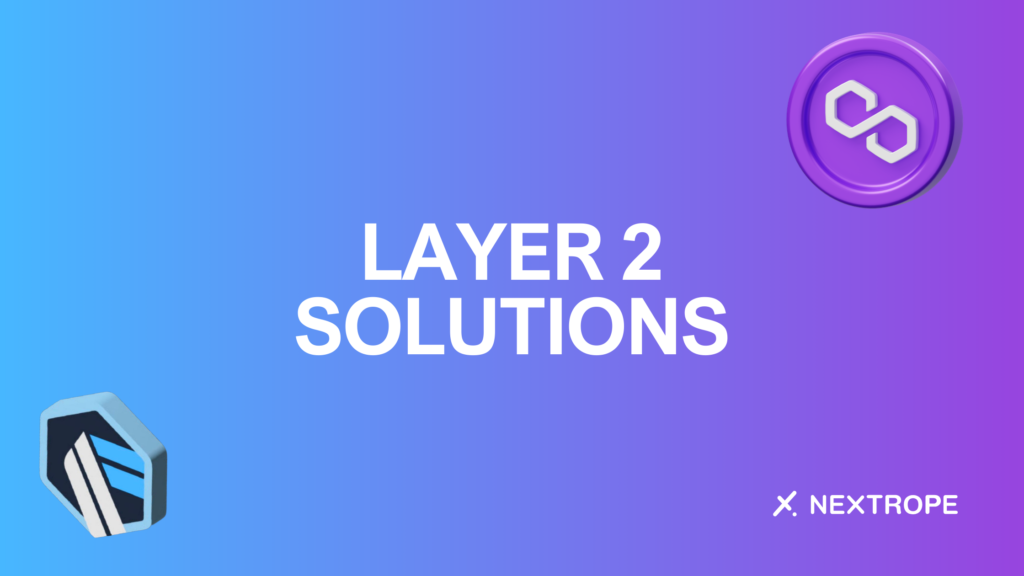 Arbitrum
Arbitrum is an optimistic rollup that presents a technique designed to enhance Ethereum's scalability. By shifting the majority of transactional computations off-chain and retaining only essential data on-chain, Arbitrum substantially decreases gas expenses and accelerates transaction processing times. In addition to these technical benefits, Arbitrum offers an environment nearly identical for developers, ensuring that Ethereum-compatible tools and smart contracts can easily transition or coexist on this Layer 2 platform.
READ: 'What is Arbitrum?'
Polygon
Conversely, we find Polygon, previously recognized as the Matic Network. This multi-chain scaling solution effectively turns Ethereum into a comprehensive multi-chain system, often referred to as the "Internet of Blockchains." With its standalone chains and secured chains, Polygon provides a range of solutions tailored to address diverse developer requirements. The architecture enables quicker, more affordable transactions, making dApps increasingly user-friendly and accessible.
READ: 'Arbitrum vs Polygon'
The Importance of Bridge Solutions
Although both Arbitrum and Polygon deliver substantial advantages independently, they function in somewhat separate environments. For users or developers looking to transfer assets or data between the two platforms, it can be inconvenient. This is where the significance of bridges, like the Arbitrum to Polygon bridge, arises. These bridges ensure that the wide and multifaceted world of Layer 2 solutions doesn't devolve into disconnected islands but remains an integrated, unified ecosystem.
Arbitrum to Polygon Bridge: Breaking Down the Mechanics
In the realm of blockchain, the ability to transfer assets and data across distinct networks is nothing short of a technological wonder. The bridge between Arbitrum and Polygon exemplifies this innovation. But how exactly does this bridge operate? Let's delve into its intricate mechanics.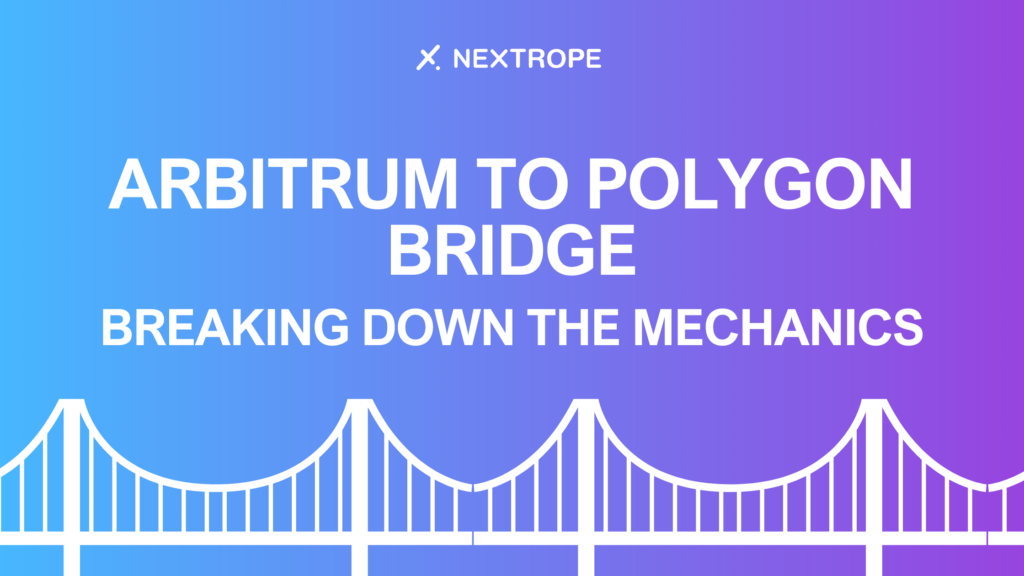 How the Bridge Works
Cross-chain Communication: At its core, the bridge acts as a mediator between Arbitrum and Polygon, enabling tokens and data to transition seamlessly between the two. When a user initiates a transfer, the originating network locks the assets, ensuring they are temporarily out of circulation.
Security Measures in Place: The bridge employs cryptographic proofs to verify and validate transactions. These proofs ensure that the assets being transferred on one side are genuinely locked and are hence minted or released on the other side.
Gas Fees and Transaction Times: Unlike base layer transactions, bridges often have variable gas fees based on congestion and demand. However, they usually offer quicker transaction times, especially when transferring assets between two Layer 2 solutions like Arbitrum and Polygon.
Stakeholders Involved
The robustness of any bridge relies heavily on its maintainers. Validators, often incentivized through staking mechanisms, play a pivotal role. Their duty is to oversee transactions, validate the correctness of cross-chain operations, and sometimes participate in consensus protocols.
Supported Tokens and Assets
While a plethora of assets can traverse the bridge, certain popular ERC-20 and ERC-721 tokens are more commonly transferred. Additionally, as the bridge ecosystem evolves, more tokens get whitelisted, broadening the scope of interoperability.
The Benefits of the Arbitrum to Polygon Bridge
As blockchain networks grow and diversify, the need for efficient interconnectivity becomes paramount. The bridge between Arbitrum and Polygon isn't just a technical conduit but brings a slew of benefits to the table.
Increased Liquidity Across Platforms
The bridge allows assets to flow fluidly between the two platforms, ensuring that liquidity isn't trapped within one ecosystem. This is beneficial for traders, liquidity providers, and even regular users who want to maximize their assets' utility.
Diversification of dApps and Services
Developers can now harness the strengths of both Arbitrum and Polygon without alienating any user base. This means a dApp developed primarily for one platform can reach users of the other, leading to diversified services and a broader audience.
Enhanced User Experience
For end-users, the bridge epitomizes convenience. No longer do they need to manage multiple wallets or undergo complex token swap processes. The bridge streamlines cross-chain interactions, saving time and reducing transaction costs.
| | |
| --- | --- |
| Benefits | Description |
| Increased Liquidity Across Platforms | The bridge allows for the seamless transfer of assets between Arbitrum and Polygon, preventing liquidity from getting isolated in a single platform. This benefits traders, liquidity providers, and users seeking to make the most of their assets. |
| Diversification of dApps and Services | By bridging the two platforms, developers can capitalize on the unique features of both Arbitrum and Polygon. This ensures that a dApp created for one platform can cater to the other's audience, leading to a richer array of services and a wider user reach. |
| Enhanced User Experience | Users no longer have to juggle multiple wallets or navigate through complicated token exchanges. The bridge simplifies cross-chain interactions, offering a more streamlined user experience by saving time and cutting down on transaction expenses. |
Potential Challenges and Concerns
While the Arbitrum to Polygon bridge offers an array of advantages, it isn't devoid of challenges. Understanding these concerns is essential for informed blockchain interactions.
Security Concerns
Bridges, by their nature, can become targets for malicious actors. There's always a concern about vulnerabilities that might be exploited, leading to loss of assets. While cryptographic proofs and validators provide layers of security, the bridge is still a complex piece of architecture that needs continuous scrutiny.
Regulatory Implications
Bridging assets between different ecosystems might attract regulatory attention. While blockchain operates in a decentralized manner, regulatory bodies worldwide are still grappling with how to oversee such cross-chain operations.
Potential Bottlenecks and Scalability Issues
As more users adopt the bridge, there's potential for congestion, leading to increased fees and slower transaction times. Ensuring that the bridge remains scalable and can handle growing demand is a continuous challenge for its developers.
| | |
| --- | --- |
| Challenges | Description |
| Security Concerns | Bridges can become potential targets for attackers. Even with cryptographic proofs and validators in place, the inherent complexity of bridge architecture can introduce vulnerabilities. Continuous monitoring and updates are required to ensure asset safety and the overall security of the bridge. |
| Regulatory Implications | As assets move across ecosystems, they might come under the purview of regulators. Although blockchain operations are decentralized, global regulatory bodies are still figuring out how to govern these cross-chain movements. Depending on jurisdiction, users and developers might face new regulatory guidelines or restrictions. |
| Potential Bottlenecks and Scalability Issues | With the increasing adoption of the bridge, there might be cases of congestion which can result in higher fees and prolonged transaction times. It's imperative for developers to continually enhance the bridge's scalability, ensuring it can accommodate the growing user base and demand without compromising performance. |
Conclusion
The Arbitrum to Polygon bridge not merely elevates user experience and liquidity but also fosters cross-pollination of ideas and services spanning platforms. Nevertheless, this technological breakthrough comes with its unique set of challenges. As we venture into this new domain, striking a balance between enthusiasm and prudence is crucial, perpetually learning and adjusting.
As a vital component in the mosaic of blockchain progress, the Arbitrum to Polygon bridge seamlessly connects platforms, assets, and communities. The current excitement surrounding this space is palpable, and one can hardly wait to discover the forthcoming innovations that await us.