In the rapidly evolving world of blockchain and cryptocurrencies, Arbitrum has emerged as a notable name that's garnering significant attention. Often recognized for its potential to revolutionize the scalability and efficiency of Ethereum-based applications, Arbitrum is a layer-2 scaling solution that promises reduced transaction fees and faster processing times. But for many, the primary question remains: "how to buy Arbitrum?" This guide seeks to demystify that process and provide readers with a clear path forward.
Pre-requisites Before Buying Arbitrum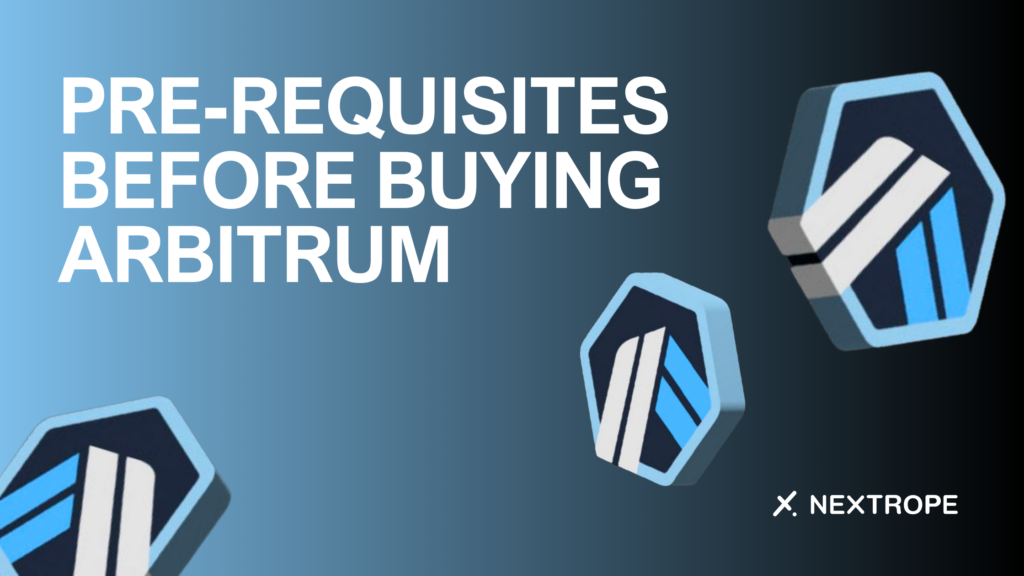 Before diving into the purchasing process, it's essential to set the groundwork and ensure you're adequately prepared. Here are some fundamental steps you need to consider:
Setting up a Cryptocurrency Wallet
Opt for wallets that have a strong reputation for security and are known to support Arbitrum. Some popular choices include MetaMask, Ledger Nano S, and Trezor.
Finding a Reliable Cryptocurrency Exchange
With the proliferation of cryptocurrency exchanges, it's crucial to select one that's reputable, has robust security measures, and offers a seamless user experience.
Step-by-step Guide on How to Buy Arbitrum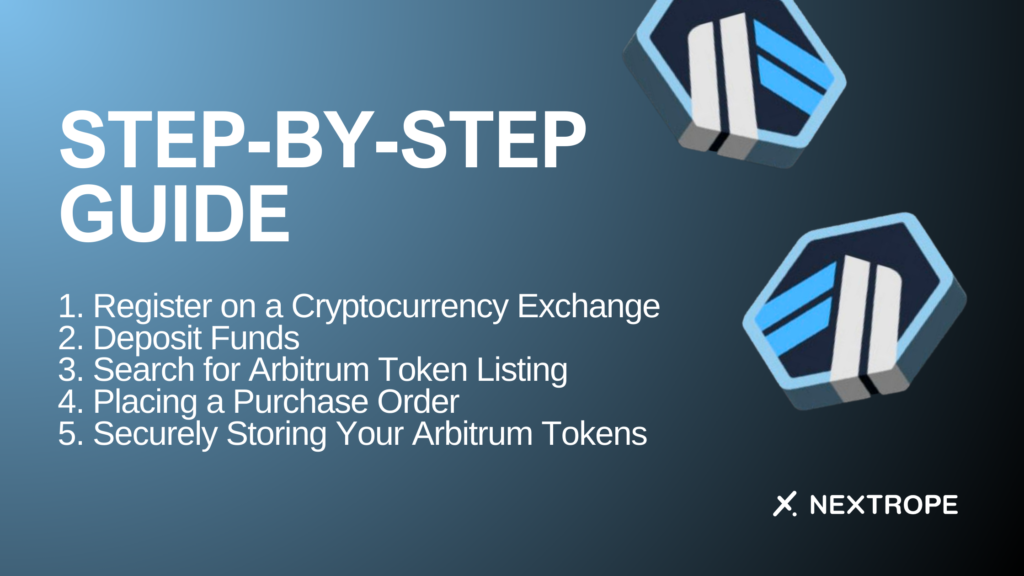 Venturing into the world of cryptocurrencies can be daunting, especially when trying to buy a specific token like Arbitrum. However, by following a systematic approach, the process becomes straightforward. Here's a step-by-step guide to help you acquire Arbitrum:
1. Register on a Cryptocurrency Exchange
Begin by signing up on a cryptocurrency exchange that lists Arbitrum. The registration process typically involves providing an email, setting a password, and sometimes undergoing a KYC (Know Your Customer) verification to ensure security.
2. Deposit Funds
Once registered and verified, you'll need to deposit funds into your exchange account. Most exchanges offer multiple deposit methods:
Bank transfer: Might take a few days but is often the most stable method.
Credit card: Offers instant deposits but might come with higher fees.
Other cryptocurrencies: Transfer from another wallet or exchange, usually faster than bank transfers.
Ensure you're aware of any fees or processing times associated with your chosen deposit method.
3. Search for Arbitrum Token Listing
Navigate the platform to locate the Arbitrum listing. Typically, there's a search bar where you can type "Arbitrum" or its ticker symbol.
Once located, you'll see trading pairs, such as ARB/ETH or ARB/USDT (examples only). Choose the trading pair that matches the funds you've deposited.
4. Placing a Purchase Order
There are usually two primary order types:
Market order: Buys Arbitrum at the current market price. It's quick but might not get you the best price if the market is volatile.
Limit order: Set your desired purchase price, and the order will execute once the market reaches that price. This can offer better prices but might not execute immediately or at all if the market doesn't reach your set price.
5. Securely Storing Your Arbitrum Tokens
After purchasing, it's imperative to store your Arbitrum tokens securely. While leaving them on the exchange is an option, it's often recommended to transfer them to a private wallet to ensure their safety.
To do this, generate a receiving address from your wallet and initiate a withdrawal from the exchange to that address.
Always double-check withdrawal details, and remember: transactions on the blockchain are irreversible.
With these steps, you should be well-equipped to buy Arbitrum successfully. Remember, while the cryptocurrency world offers exciting opportunities, it's always best to be cautious and do thorough research before making any investment decisions.
Potential Risks and Considerations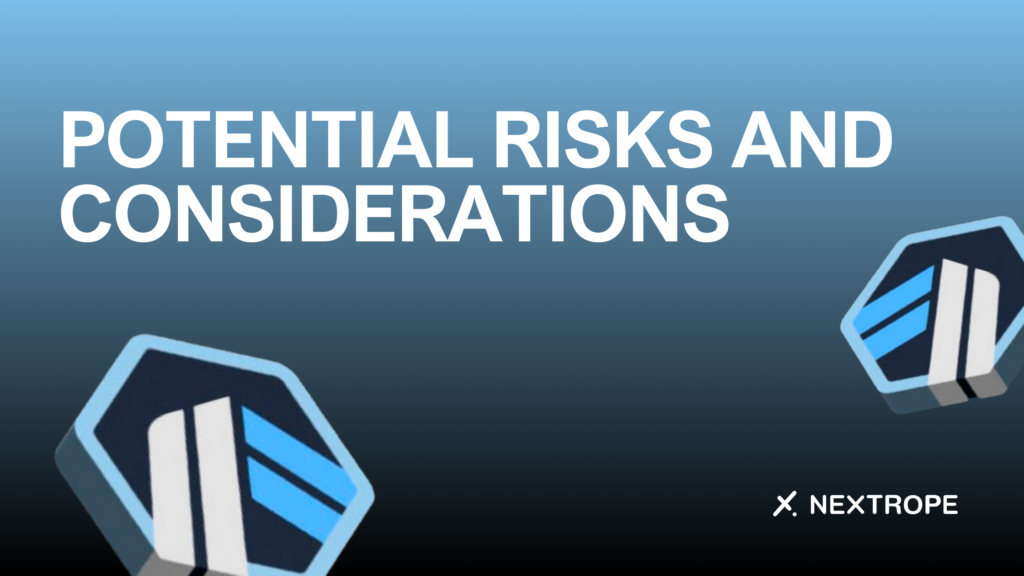 Navigating the cryptocurrency world requires a keen understanding of its inherent risks and challenges. While Arbitrum offers an array of enticing benefits, being informed of possible pitfalls will enable you to make smarter investment decisions.
Market Volatility
Cryptocurrencies, including Arbitrum, are notoriously volatile. Prices can soar or plunge dramatically over short periods, influenced by market news, regulatory changes, or macroeconomic factors.
Security Precautions
The decentralized nature of cryptocurrencies means that once lost or stolen, your assets are irrevocable.
Be cautious of unsolicited emails or messages urging you to provide personal information or click on suspicious links.
Always enable 2FA on your accounts to add an additional layer of security.
Ensure your wallets and exchange platforms are up-to-date to benefit from the latest security enhancements.
Conclusion
Arbitrum, with its potential to reshape Ethereum's scalability, undoubtedly holds promise for both developers and investors alike. By understanding "how to buy Arbitrum" and being mindful of associated risks, you position yourself for a safer and more informed investment journey. As the blockchain landscape continues to evolve, staying educated and vigilant remains paramount.
Additional Resources
If you're looking to deepen your understanding or explore other facets of the cryptocurrency world, consider the following resources:
Official Arbitrum Documentation
Remember, while articles like this provide a starting point, the onus remains on individual investors to conduct thorough research and due diligence