There's always something new in store for everyone when it comes to development as businesses increasingly find the need to have their branded online hubs. Nextrope is a team of digital experts that enables clients to unleash their untapped digital potential. A dedicated group of people, we deliver end-to-end solutions in the form of:
Technical Consulting
Product Design
Mobile & Web & Blockchain Development
Support & Maintenance
Our vast knowledge of the blockchain allows us to open our doors to a vast number of sectors as there is a growing demand for it.
In our effort to provide tailored digital services, we recently received our latest review on Clutch from one of our amazing clients!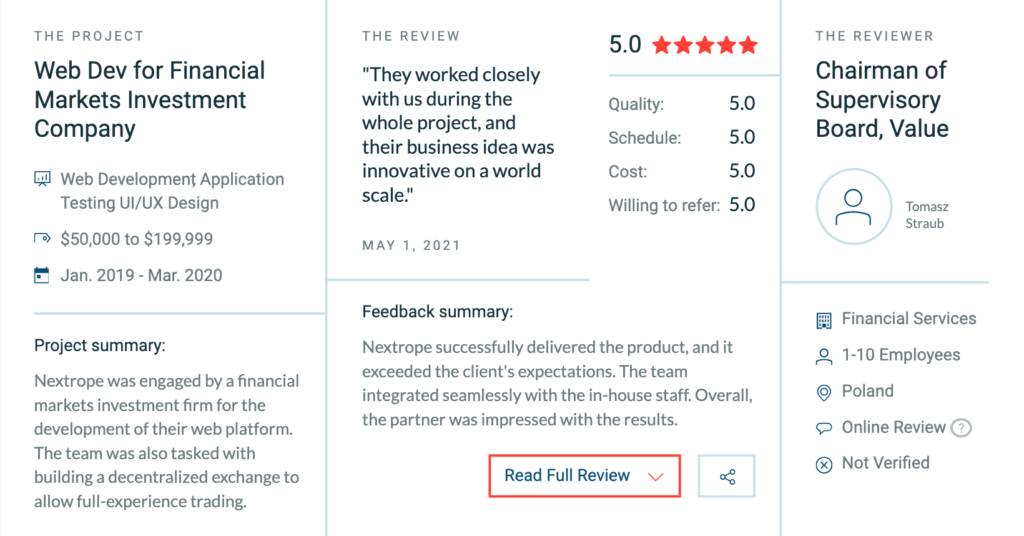 To help you better understand, Clutch is a B2B ratings and reviews platform based in Washington, DC. They evaluate technology service and solutions companies based on the quality of work, thought leadership, and client reviews.
Clutch is hugely respected within the B2B space for connecting small, mid-market, and enterprise businesses with service providers that fit their needs. Likewise, agencies on The Manifest, Clutch's sister site, get featured on the site if they're among the top companies in their respective industries and location. Through this method, they gain better discoverability, helping market researchers make informed decisions when dealing with service providers.
In the above review, our client Value, a financial markets investment company, engaged with us in 2019 mainly for the enhancement of their website. The project involved the creation of marketing content, a new crypto-token, 3D animations, and a decentralized exchange (DEX). Our client's primary goal was to gather $1 million fully invested into their portfolio, and Nextrope made sure that they succeeded in this venture.
"STO was successful - we gathered more than we expected. DEX platform is fully operational and develops towards IEO platform for Value's clients… their business idea was innovative on a world scale."
— Tomasz Straub, Chairman of Supervisory Board, Value

Where fintech excels, we're there! Nextrope is your next partner for digital innovation. Find out how you can get started on your development journey today!