The Role of Discord in Web 3 Projects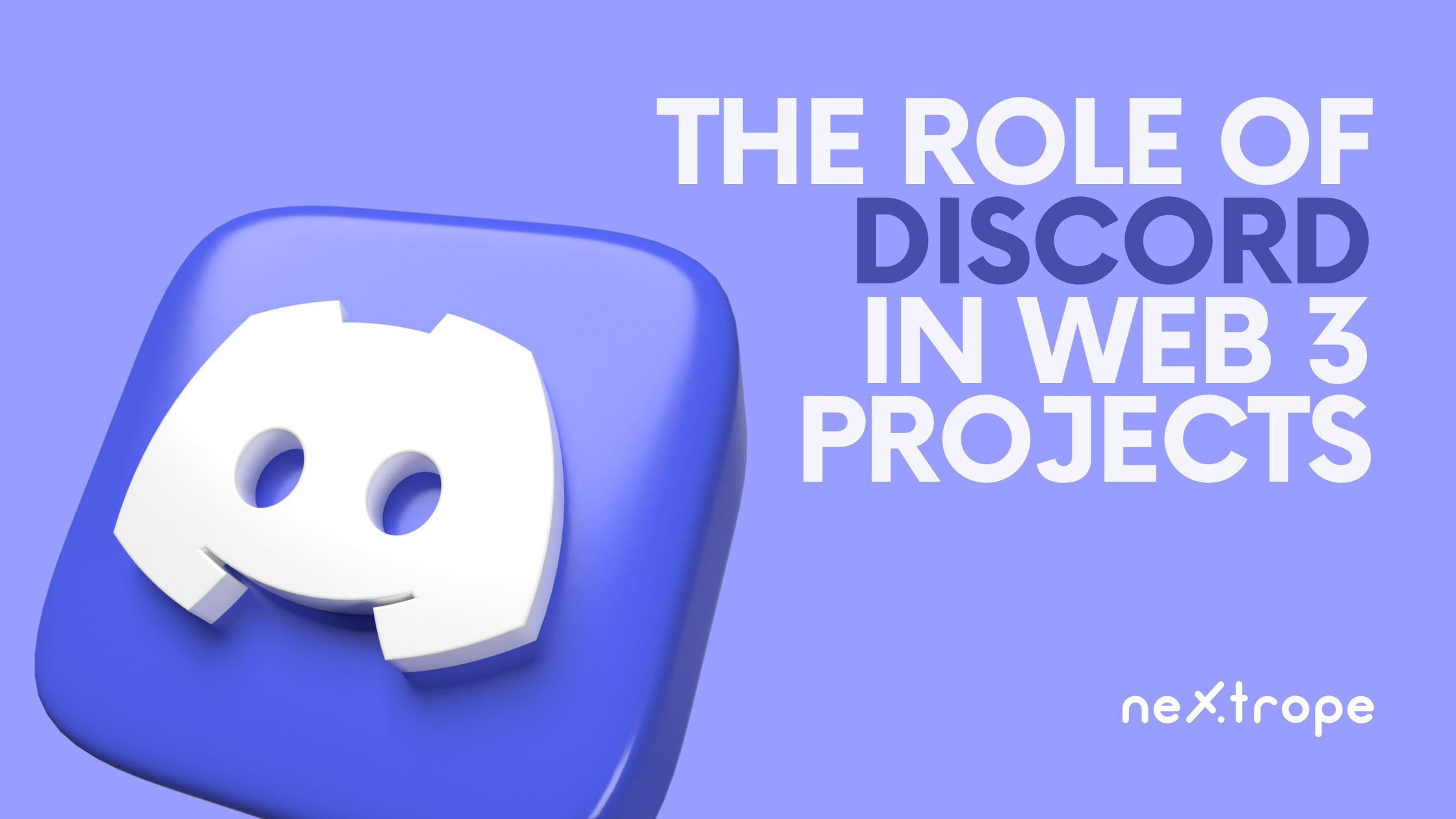 The landscape of Web 3 projects is rapidly evolving, and effective communication and collaboration are essential for fostering innovation and success. With the growing prominence of blockchain, AI, and cryptocurrencies, the importance of communication platforms cannot be understated. Discord, one such platform, has become vital in facilitating interactions within Web 3 communities.
Initially designed for gamers, Discord has discovered a new purpose within the sphere of Web 3 projects. Offering a user-friendly interface along with versatile features, Discord serves as a centralized hub that allows developers, enthusiasts, and communities to connect, exchange ideas, and collaborate on various initiatives related to blockchain, AI, and cryptocurrency.
In this article, we examine the increasingly expanding role of Discord in Web 3 projects by exploring its integration with blockchain-based communities, its contributions to AI-focused initiatives, and its influence on cryptocurrency-related projects. By understanding the benefits and successful applications of Discord in Web 3 environments, we can recognize its importance in driving communication, fostering community growth, and facilitating collaboration within this groundbreaking ecosystem.
Understanding the Significance of Discord for Web 3 Projects
As a crucial communication platform within Web 3 projects, Discord has emerged, acting as a hub for developers, enthusiasts, and communities to collaborate and push the boundaries of innovation. We'll delve into the various aspects of Discord's involvement in Web 3 projects and its contribution to their success.
Integration of Discord in blockchain-based communities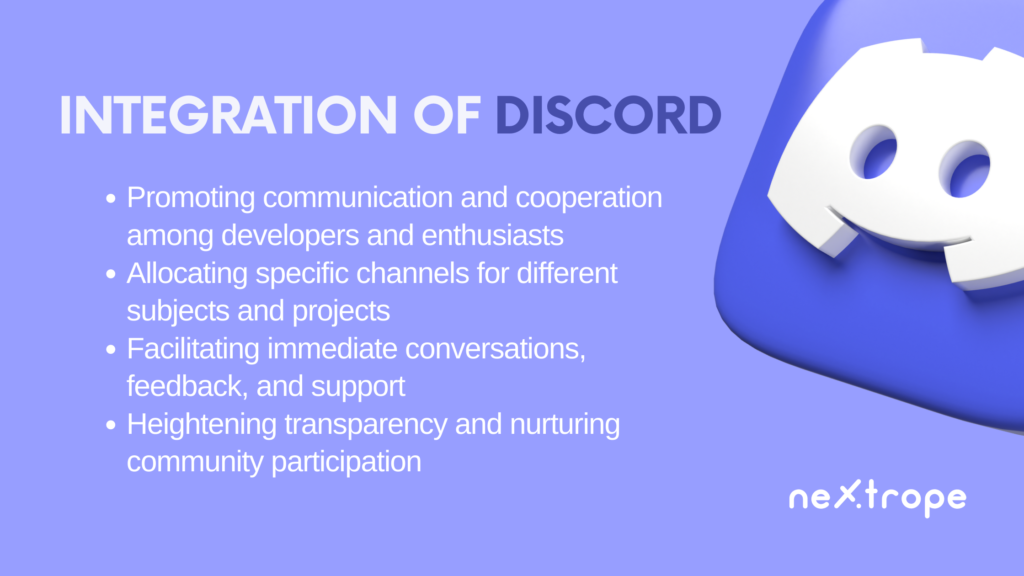 Promoting communication and cooperation among developers and enthusiasts:
Discord presents a centralized location where developers, enthusiasts, and project contributors can interact and participate in real-time conversations.
The platform enables the exchange of ideas, soliciting feedback, and fostering relationships within the community.
Allocating specific channels for different subjects and projects:
Dedicated channels for particular topics, projects, or working groups can be established within Discord.
These channels facilitate concentrated discussions and collaboration, ensuring effective communication among community members.
Facilitating immediate conversations, feedback, and support:
Chat and voice functionalities within Discord provide real-time communication options, leading to instant feedback, problem-solving, and assistance.
Developers have the opportunity to seek advice, share segments of code, and team up on technical project components.
Heightening transparency and nurturing community participation:
By offering a platform for project updates, announcements, and discussions, Discord advocates for transparency.
Community involvement is encouraged through regular interactions, Q&A sessions, and feedback loops which create feelings of ownership and participation.
Employing Discord for AI-related endeavors in Web 3 Projects
Utilizing AI bots for content moderation and curation:
Discord allows AI bot integration which can automate moderation responsibilities, filter out spam, and maintain adherence to community rules.
These bots also aid in content organization, regulating discussions, and supplying pertinent information to community members.
READ this article about 25 useful discord bots
Applying natural language processing (NLP) for sentiment evaluation:
Sentiment analysis using NLP capabilities can be deployed within Discord to examine the emotions of community members.
This helps project teams assess the responses to their ideas, news, and announcements, and respond accordingly.
Exploiting AI-driven analytics for monitoring user behavior and engagement:
AI-powered analytics tool integration with Discord makes it possible for project teams to observe user behavior, engagement levels, and participation patterns.
These insights facilitate strategy adjustments, pinpointing improvement areas and customizing communication to suit community requirements.
Discord's involvement in cryptocurrency-based Web 3 Projects
Integrating Discord with crypto wallets for smooth transactions:
Users can execute transactions and manage digital assets within Discord by integrating the platform with crypto wallets.
This integration simplifies the processes of purchasing, selling, and transferring cryptocurrencies, thus enhancing user experience.
Organizing community-centered token sales and initial coin offerings (ICOs):
Through Discord, project teams can orchestrate token sales and ICOs directly engaging with investors and community members.
This enables immediate discussions, explanations, and support throughout the fundraising process.
3. Offering a space to announce project updates and host AMA sessions:
Discord is an optimal environment for sharing project announcements, updates and conducting AMA (Ask Me Anything) sessions.
These interactions contribute to transparency while addressing community questions and generating enthusiasm for the project.
4. Supporting decentralized governance discourse and voting mechanisms:
Decentralized governance discussions among Web 3 projects can take place within Discord.
Community members can participate in voting procedures, allowing them a voice in project choices and fostering a democratic atmosphere.
By adopting Discord as a communication platform, Web 3 projects can utilize its features to promote cooperation, boost community involvement, and ensure their initiatives' success.
Discord's Benefits in Web 3 Projects
Discord offers numerous benefits for Web 3 projects, making it a perfect communication tool for developers, enthusiasts, and community members. Here, we'll discuss the main advantages of utilizing Discord for Web 3 projects: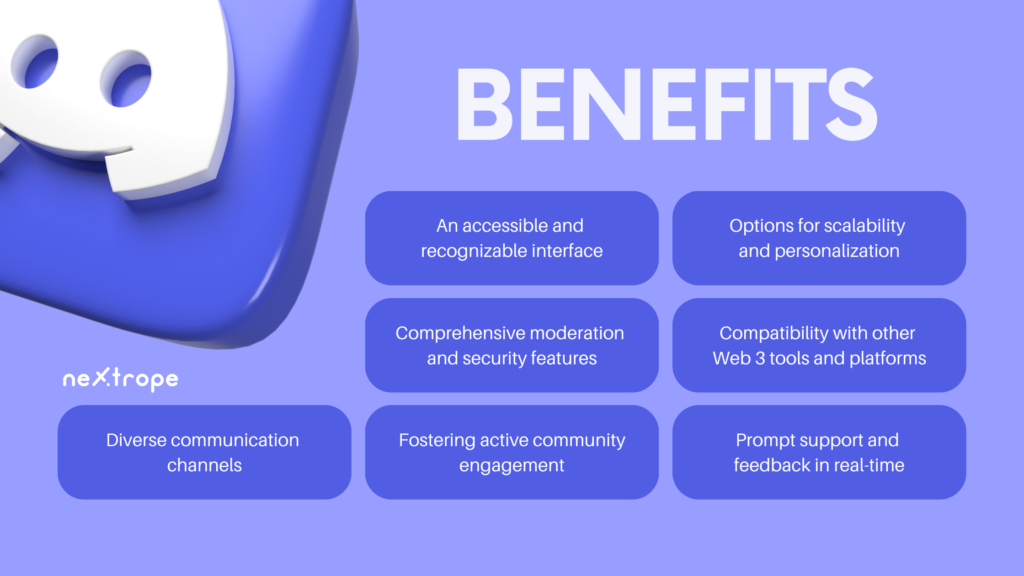 An accessible and recognizable interface
1. An intuitive and user-friendly interface is provided by Discord, which appeals to various users such as gamers, developers, and cryptocurrency enthusiasts.
2. The platform's simplicity reduces the learning curve and facilitates the smooth integration of new community members, ensuring wide adoption and involvement.
Options for scalability and personalization
1. Discord has been designed for large community management, providing scalability for growing user bases within Web 3 projects.
2. It enables personalization through roles, permissions, and channel organization, offering flexibility to customize the platform based on project necessities.
Comprehensive moderation and security features
1. To maintain a secure and inclusive environment for all participants, Discord supplies powerful moderation tools that manage and enforce community guidelines.
2. Role-based permissions, message filtering, and anti-spam measures are among the features that allow project teams to stay in control and minimize harmful activities.
Compatibility with other Web 3 tools and platforms
1. Integrating seamlessly with other Web 3 tools and platforms is possible with Discord, improving overall functionality within the ecosystem.
2. Crypto wallets, analytics tools, and project management platforms can be integrated, creating a cohesive experience for community members.
Diverse communication channels
1. Multiple communication avenues including text chat, voice chat, or video chat are offered by Discord to accommodate differing preferences and styles of interaction.
2. This variety promotes efficient communication, cooperation, and knowledge exchange among community members across geographies or time zones.
Fostering active community engagement
1. Discord supports lively and involved communities by creating an environment conducive to open discussions, information sharing, and networking possibilities.
2. Participation is encouraged through features like emojis, reactions, and notifications, which help keep community members knowledgeable and connected.
Prompt support and feedback in real-time
1. Real-time communication via Discord enables the swift provision of support and feedback within Web 3 projects.
2. Community members can access immediate assistance, resolve issues faster, and offer valuable input to project teams for continuous improvement.
Conclusion
Discord's appealing features in areas such as user accessibility, scalability, adaptability, moderation, integration capabilities, and community involvement make it an indispensable resource for Web 3 projects seeking effective communication and collaboration within their ecosystems.
Within the domain of Web 3 projects, Discord has risen to prominence as an essential communication platform, fueling innovation, cooperation, and community development. Its incorporation into blockchain-based communities highlights its increasing importance in the Web 3 landscape, along with its contributions to AI initiatives and influence on cryptocurrency-related endeavors.
Discord serves as a centralized hub where developers, enthusiasts, and communities can interact, enabling efficient communication, teamwork, and the exchange of knowledge. The platform's user-friendly interface, its ability to scale, its availability of customization choices, and comprehensive moderation tools make it perfect for Web 3 projects of varying sizes.
By integrating AI capabilities with Discord, web 3 projects can utilize natural language processing, sentiment analysis, and AI-driven analytics to improve community engagement and decision-making processes. Additionally, Discord's compatibility with crypto wallets, support for token sales, AMA sessions, and decentralized governance discussions make it an invaluable resource for cryptocurrency-focused initiatives.
Discord's various advantages in Web 3 projects encompass user-friendliness, scalability, personalization options, moderation capabilities, integration features, and its capacity to establish active communities. It is this combination that renders Discord an irreplaceable instrument for communication and collaboration within the Web 3 ecosystem.
Nextrope Tokenization Launchpad Platform
Nextrope Launchpad Platform is a White Label solution in a Software-as-a-Service model that helps you launch your project within a month and fundraise with Initial Coin Offering (ICO) or Security Token Offering (STO).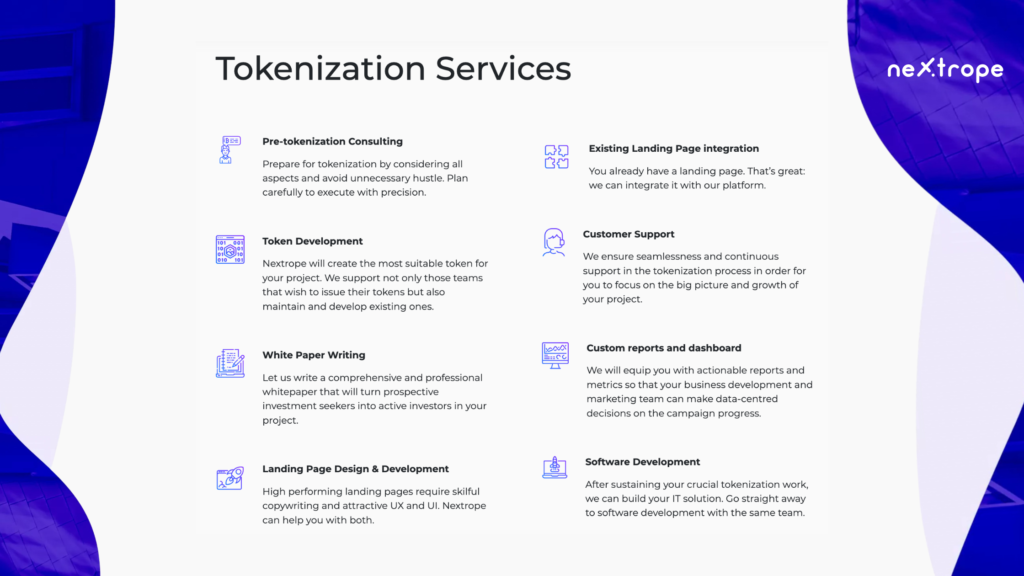 Our platform allows you to participate in the broad financial market of digital assets. Expand your reach and find investors globally. Tokenize your project and start raising capital within a month!
Never miss a story
Stay updated about Nextrope news as it happens.