NFT game development – everything you need to know before launching your own project
NFT games might be the hottest trend in the whole gaming industry right now. If you consider joining it, read our guide, where we summarized their creation step by step. Check out experts' insight on NFT game development.
Table of contents:
What are NFTs?
NFT and Gamming Assets
Advantages of NFT that the gaming industry may use
NFT game development step by step
Hiring an NFT game development company
NFT games - why does it make sense?
What sounded unbelievable just a few years ago, is slowly becoming a mainstream reality today. Blockchain games have gained significant popularity. They revolutionize popular gaming genres by redefining the way we think about gaming assets and in-game purchases.
But besides hype, what exactly does make NFT a good choice for the gaming business?
NFT - what are they?
NFT stands for Non Fungible Tokens. But what does it mean? Among various blockchain token types, we differentiate between fungible and non-fungible tokens. (You can read here more about token types)
Examples of the first kind are Bitcoin or Ether. Fungible means that a single token is indistinguishable from others in the same ecosystem. Just like in regular currency. Thus, they can be used for payment transactions.
NFT's non-fungibility means that every token in the system is unique. NFTs don't have a common value and often do not allow for an equal exchange (NFT for NFT). Each token represents unique information of ownership or identity.
In the blockchain world, NFTs are digital assets that represent a unique digital or real item. How can we use them in the game ecosystem?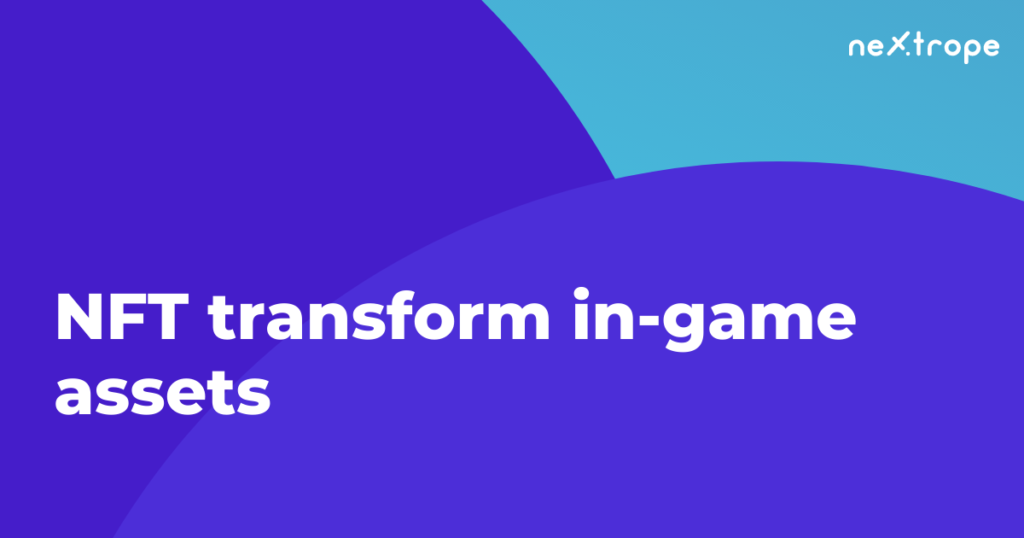 NFT and game assets
The gaming industry is a powerful branch fueled by its consumers' passion. When gamers launch their favorite title, they immerse themselves in a new, alternative world. A quick look at the most popular games of the last decade, like League of Legends, Fortnite, or Counter-Strike, should be enough to see how modern gamers care about their characters, skins, and other in-game items. They treat them as an extension of their creative self. And what's important, they can pay a lot for it.
The will to build a collection of unique items is nothing new. The games have shown us how far beyond the real world this phenomenon could extend. But do the purchased gaming collectibles become their property? Do these items differ somehow from the ones possessed by others? What is the true asset value? Often the answer is not so simple. During the last few months, NFTs showed us that they might change that.
Everywhere where users collect and trade virtual gaming assets, NFTs can highly improve their gaming experience. Essentially, they assure players about the authenticity and scarcity of gaming assets and allow them to keep full ownership of the purchased assets.
Collectible games seem to be a perfect environment for NFTs. That's why we have seen a rapid growth of projects of such type during the last year. Yet, the potential of NFT gaming solutions goes far beyond them. Just think about online board games or PVP battle games.
As an example, let's take multiplayer games like the aforementioned LOL or Fortnite. Possessed skins and champions are of great importance to the players. Saving such virtual assets as NFTs would bring tremendous new possibilities. What if the players had complete control over the ownership rights to their game assets?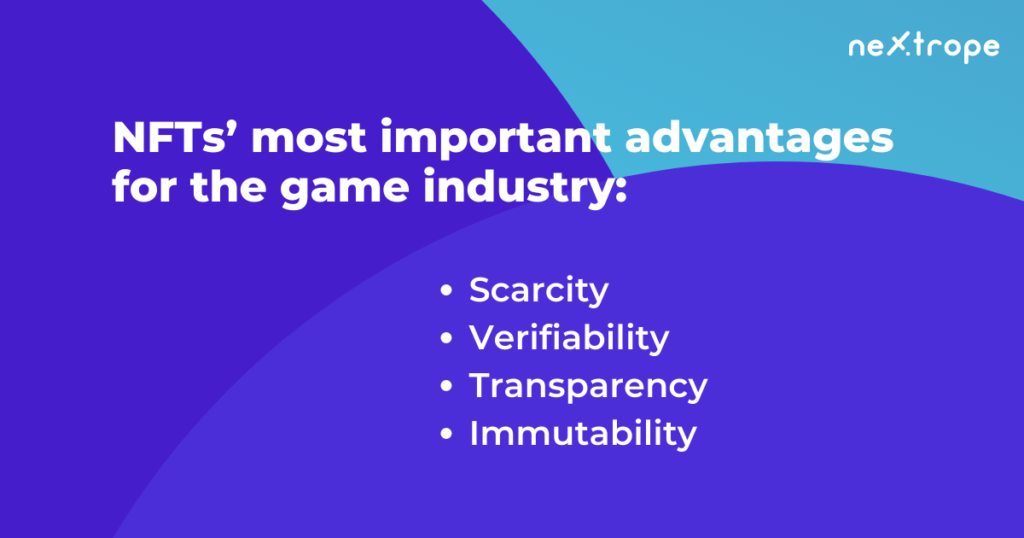 NFTs' most important characteristics for gaming platform
Scarcity
Verifiability
Transparency
Immutability
Advantages of NFT gaming platform
Launching an NFT game can offer significant revenue-generating opportunities.
Demand for in-game assets increases its native token value.
Players can sell their virtual assets on a free market.
Players are assured about the scarcity of their virtual assets.
Thanks to NFT, implementing a play-to-earn model is possible.
Earning possibilities attract many players to NFT game platforms.
The current hype around NFT may be used as a driving force for your marketing campaigns.
NFT gaming platform development step by step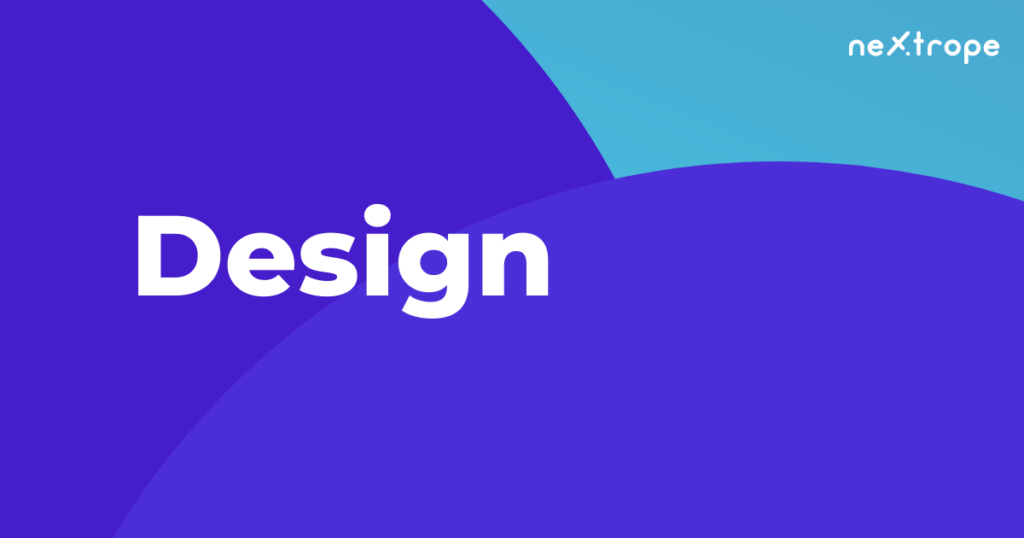 Design
Define your idea
What type of game do you want to build? Will it be a card game or maybe an RPG? Besides the genre, you have to decide its topic. Those will be the first steps of your own NFT gaming platform development.
When you determine these factors, try to find similar non-blockchain games. They will be a great starting point. Examine what worked in their cases and use them as an inspiration.
In which games NFTs may be useful?
You would be surprised how varied NFT games can be. Below, in brief, we summarized games' genres where NFT usage would make sense:
Action Games
Adventure Games
PvP Battle Games
Arcade Games
Online Board Games
Casino Games
Card Games
Fantasy Sports
Racing Games
Sports Games
Simulations Games
Bring creatives to your team
It sounds a bit obvious, but in the NFT industry design seems to be everything. The same goes for the NFT gaming platform. Without interesting graphics, your game probably won't attract many players.
Do you think that creating appealing pixel art shouldn't be difficult? You couldn't be more wrong. Even a simple design requires skills and experience, without which your project will be simply dull and unsightly. Hence, don't forget about artists that will bring your game to a new level.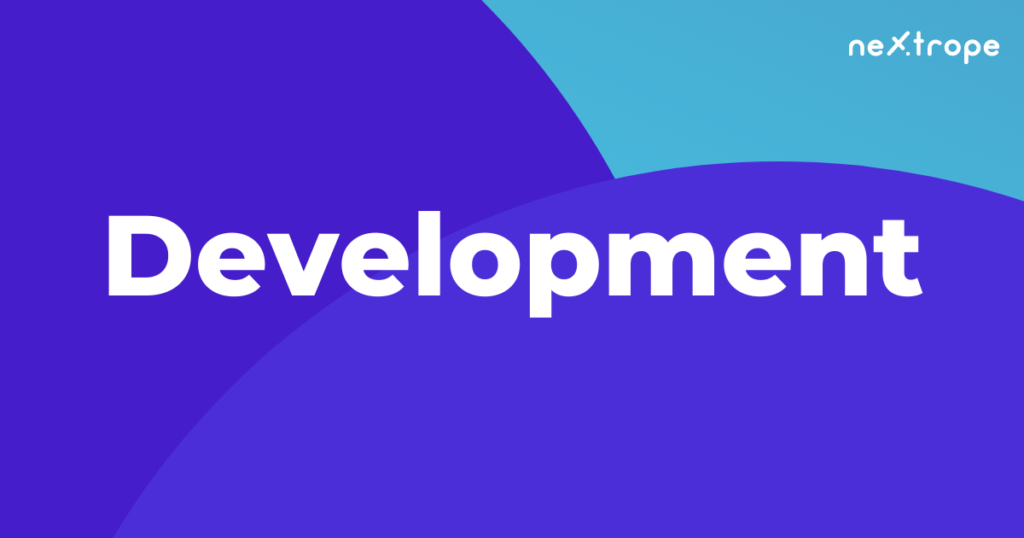 Development
Decide between a mobile app and a web app
This is one of the first questions you will have to answer approaching NFT gaming platform development. Both options have several pros and cons.
Firstly, web apps are highly available and more accessible for a broader audience. On the other hand, mobile apps offer more features and are usually faster than web apps. Yet, the process of their creation is more time-consuming.
If you decide on a mobile app, you will have to choose between native and non-native apps. While the first type is designed for a specific operating system, the second works on all of them. But at the same time, it doesn't have access to functionalities, such as camera access or notifications.
Choose your game environment
To which blockchain will you connect your NFT game? While most of the NFT games use Ethereum Blockchain, there are alternatives worth considering. Check, for example, Solana Blockchain, which offers promising possibilities for NFT development.
Also, even within just Ethereum, you have numerous different Layer 2 solutions that may increase the speed and accessibility of your NFT game. One that is definitely worth considering in the case of NFT games is Immutable X, designed specifically to support projects of this type.
Frontend
Most NFT games have their frontend done in Javascript or Typescript. As for the framework, the choice is between React and Vue. The majority of game developers use the first one. Angular is also an option, yet for most projects, it's simply too heavy considering their needs.
Connection with wallets
Your NFT game should be connected with at least one of the available crypto wallets to allow players to safely store their NFTs. Most projects during NFT game development choose MetaMask.
MetaMask offers certain advantages: it's non-custodial and can store NFTs. Therefore it's extremely popular among NFT holders.
Backend
For NFT game development Node.js is one of the most popular options as a backend language of NFT gaming platform solutions.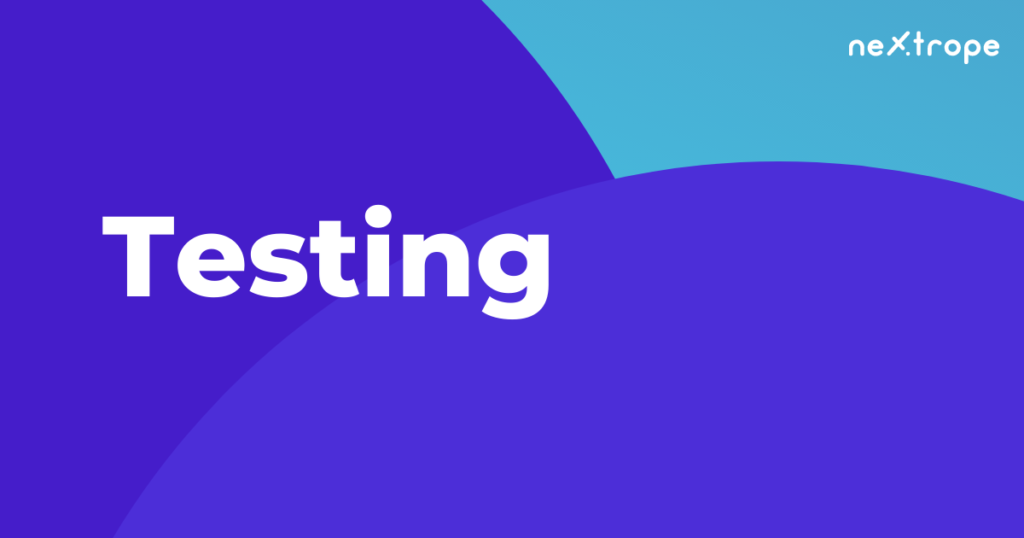 Testing
Rinkeby or Ropsten Testnet are reasonable options for testing NFT games. Yet, they're definitely not the only ones.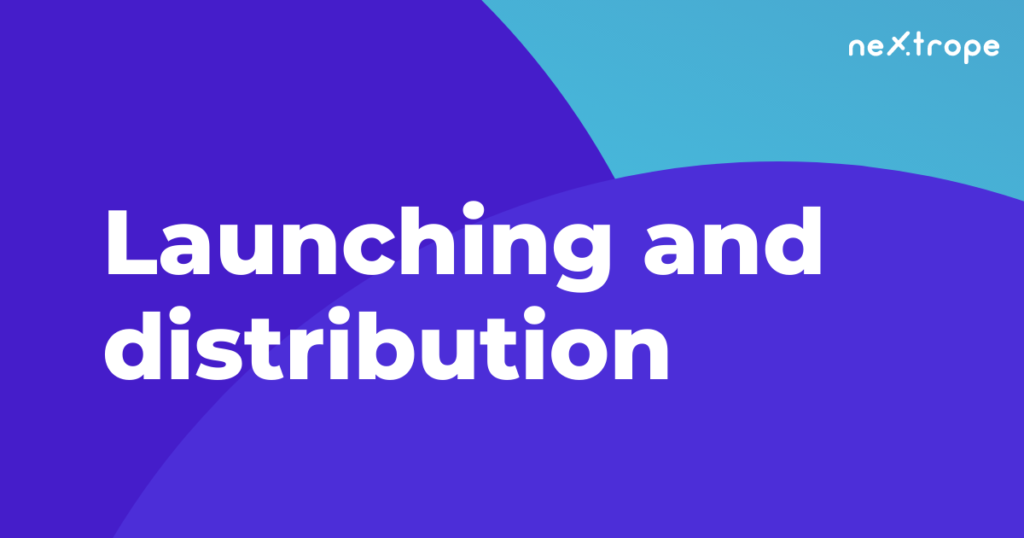 Launching and distribution
After testing your app on a testnet you will want to deploy it to the main Blockchain network (mainnet). Don't rush here, as there are several threats that may disturb this process. Give yourself time to properly test everything before. Here you can find a useful guide for the Ethereum network.
But the success of your NFT game requires far more than just completing NFT game development. You mustn't forget about a strong marketing strategy. Consider starting users' engagement before you will eventually launch your game. Think about creating content, discord channels, Reddit groups. In the end community, you build may turn out to be extremely useful for further development.
NFT game development company - Nextrope
Above we briefly summarize tools and programming languages that can be used during NFT gaming platform development. Yet, every project is unique and has its own requirement. Therefore, your development team should be able to adjust to those needs, as well as be prepared to overcome unpredicted obstacles that may emerge.
Furthermore, if you consider launching your own NFT game, you should be aware that its success requires skills and knowledge regarding both the technical and business sides of the Blockchain industry. That's why many projects decide to hire an external blockchain company as a technological partner.
At Nextrope, we can call ourselves pioneers of Blockchain technology in CEE. We conducted one of the first tokenization in the world and since that we keep up to date with the industry. NFT games aren't an exception.
Do you want to know how Nextrope's team can boost your NFT game on a new level? Feel free to contact our specialists who will gladly answer all your questions.
Never miss a story
Stay updated about Nextrope news as it happens.