The gaming industry may be poised on the edge of its most extraordinary revolution. NFTs disrupt the way we have been thinking about digital assets and shape the new gaming economy. From Axie Infinity to NBA Top shots - we have analyzed the rapidly developing world of NFT games and distinguished six of its most successful representatives.
Table of contents:
NFTs - what they are
Blockchain game assets
Popular NFT gaming platforms
Top NFT games
What sounded unbelievable just a few years ago, is slowly becoming a mainstream reality today. Blockchain games have gained significant popularity. They revolutionize popular gaming genres by redefining the way we think about in-game assets and in-game purchases.
While more and more investors become interested in launching their own games, we try to answer what made some NFT games particularly successful. Why are there so many free NFT games among them?
NFT tokens - what they are
NFT stands for Non Fungible Tokens. But what does it mean? Among various blockchain token types, we differentiate between fungible and non-fungible tokens. (You can read here more about token types)
Examples of the first kind are Bitcoin or Ether. Fungible means that a single token is indistinguishable from others in the same ecosystem. Just like in regular currency. Thus, they can be used for payment transactions.
NFT's non-fungibility means that every token in the system is unique. NFTs don't have a common value and often do not allow for an equal exchange (NFT for NFT). Each token represents unique information of ownership or identity.
In the blockchain world, NFTs are digital assets that represent a unique digital or real item. How can we use them in the game ecosystem?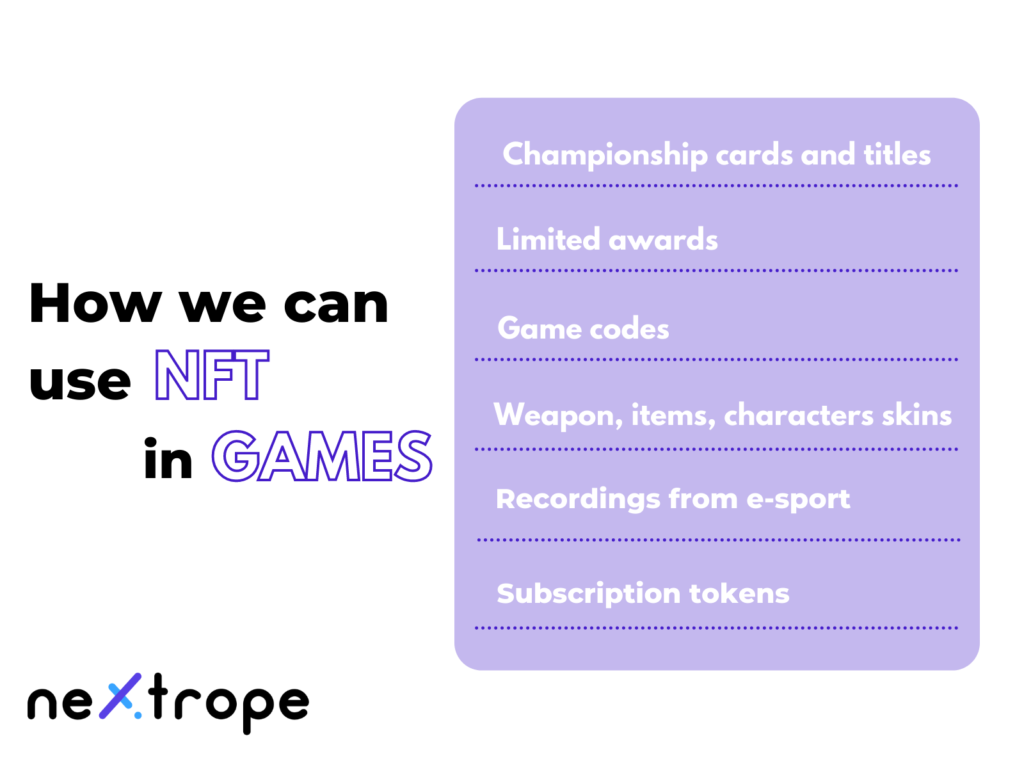 NFT game - why does it make sense?
The gaming industry is a powerful branch fueled by its consumers' passion. When gamers launch their favorite title, they immerse themselves in a new, alternative world. A quick look at the most popular games of the last decade, like League of Legends, Fortnite, or Counter-Strike, should be enough to see how modern gamers care about their characters, skins, and other in-game items. They treat them as an extension of their creative self. And what's important, they can pay a lot for them.
The will to build a collection of unique items is nothing new. The games showed us how far beyond the real world this phenomenon could extend. But do the purchased items become their property? Do these items differ somehow from the ones possessed by others? Are they truly rare? Often the answer is not so simple. During the last few months, NFTs showed us that they might change that.
Beginnings of NFT games
Currently, the most popular NFT standard is ERC-721. Its first commercial use was an NFT game, CryptoKitties, which allows the players to buy, collect and sell virtual kitties. Since the game's debut in 2017, Dapper Labbs made over 40 million USD off of it. CryptoKitties were the first game of this kind which started a whole new trend.
It seems like collectible blockchain games are the perfect environment for NFT. They allow the players to buy unique items and to keep full ownership of the purchased assets. That's why we have seen a rapid growth of projects of such type during the last year.
Where will NFT games take us?
NFT's potential reaches far beyond collectible games. Let's take, for example, multiplayer games like the aforementioned LOL or Fortnite. Possessed skins and champions are of great importance to the players. NFT allows the buyers to claim ownership over unique digital products.
What if it was implemented for rare and difficult-to-obtain game items they purchase? What if also, in these cases, the players had complete control over ownership rights they could trade with other players? The same could be applied to limited editions of character skins.
Best NFT games in the industry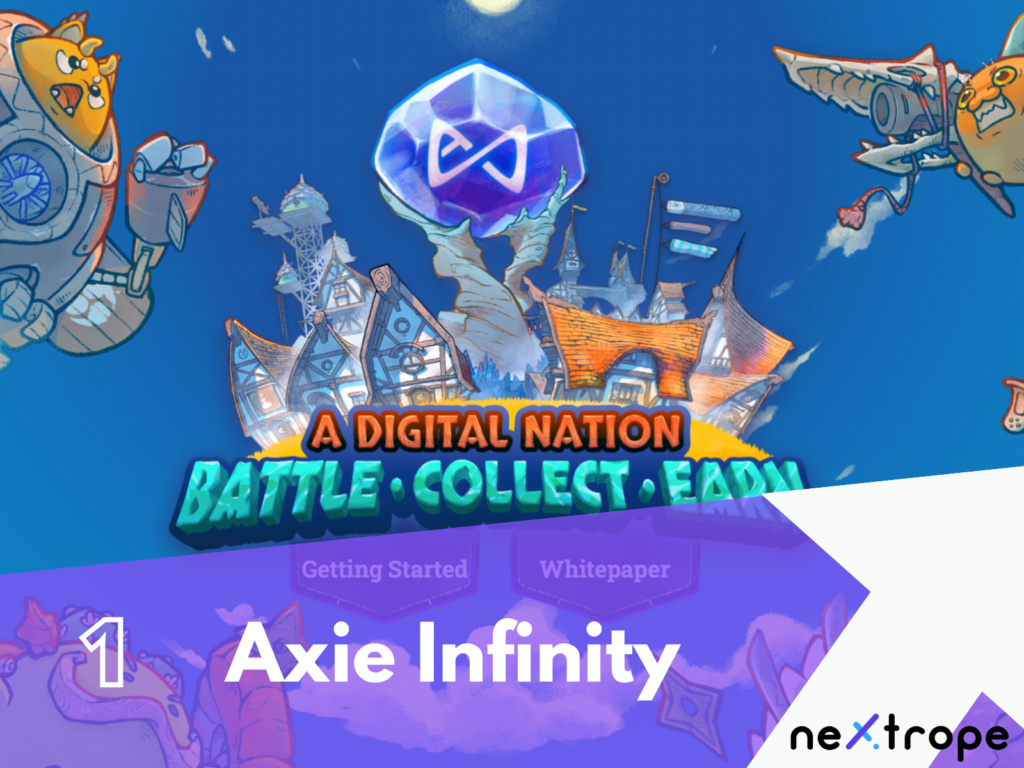 Axie Infinity
The public heard about Axie Infinity for the first time after the spectacular sale of a digital land plot. In February 2021, user Flying Falcon bought eight genesis plots worth approximately $1.5mln. This event may be considered a milestone for the NFT market. But what is so special about Axie Infinity?
Like many titles on this list, Axie allows its players to earn cryptocurrencies just for… playing. Yes, that's right. The new phenomenon in the gaming industry already got its name: play-to-earn, and it's constantly gaining popularity.
Ok, but what do we mean by "playing" in the case of Axie? Axie resembles Pokemon, but on a Blockchain. The core of the game is combat between cartoon characters - Axies. What differentiates Axies from Pokemons is the fact that they are NFTs stored on the game's Blockchain. Essentially they are NFTs-based digital creatures.
To create new characters, players "breed" them using the game's native token, which can be earned through the game or bought from an exchange. By selling Axies or winning fights, players earned the currencies. Then they can sell them on the open market, making a profit.
Currently, dedicated players earn as much as thousands of dollars a month playing Axie Infinity.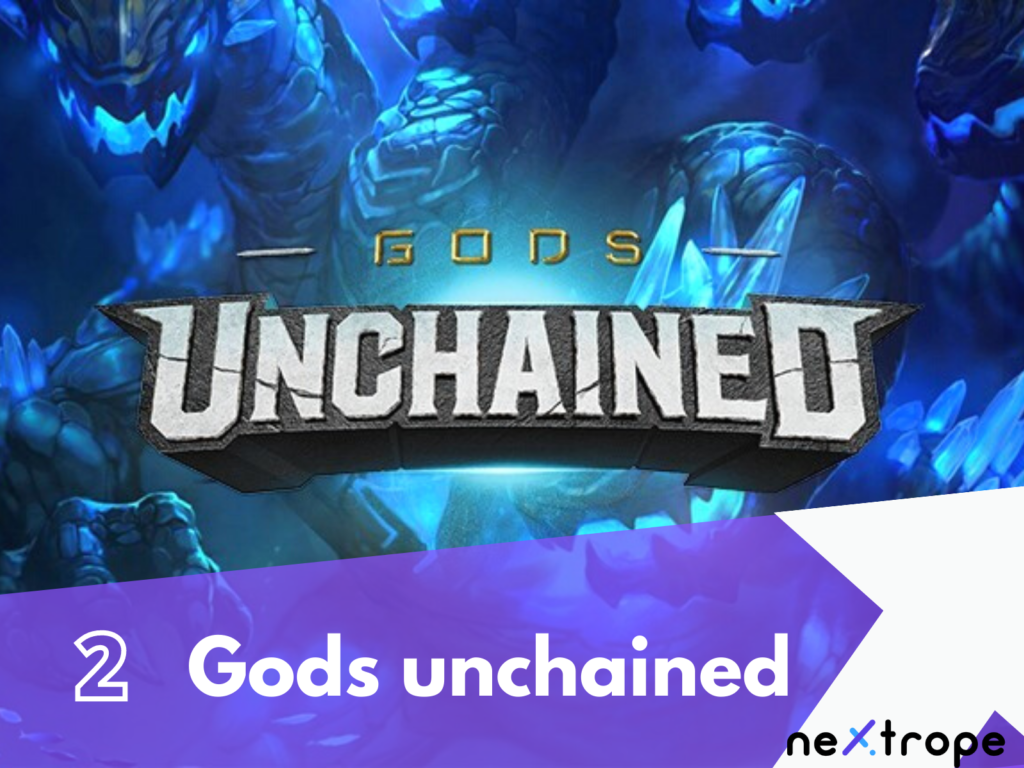 Gods Unchained
If you are up to date with the ICOs' world, without a doubt, you've heard about Immutable X. Get to know the blockchain game created by its godfathers.
Gods Unchained is a trading card game that aims to give its players complete ownership over in-game items by using NFTs. Essentially its players collect digital playing card NFTs.
Their motto is, "If you can't sell your items, you don't own them." Thus the game allows users to sell their cards and other items for native GODS tokens, which can be exchanged for fiat money.
It's worth noting that God's Unchained remains a free-to-play game. Cards can be unlocked simply by playing the game. Therefore Gods Unchained should be considered one of the truly play-to-earn games, which stands contrary to the standard model of gaming commerce.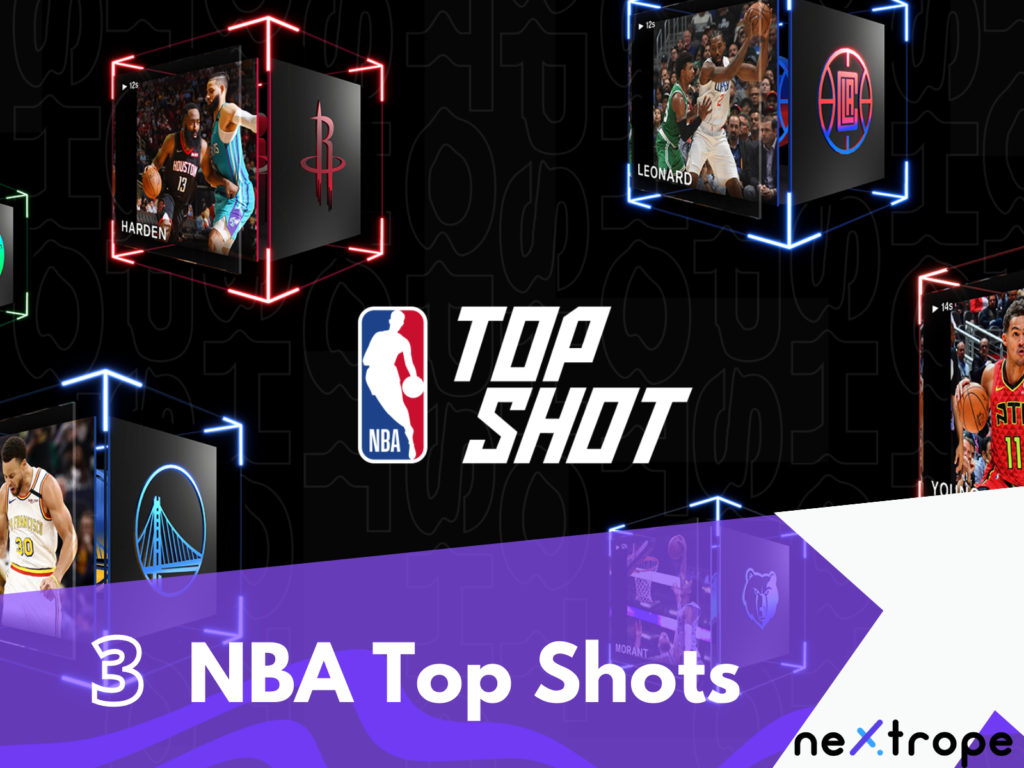 NBA Top Shots
The outcome of the cooperation between NBA and Dapper Labs company, in the simplest terms, is an internet platform for exchanging virtual trading cards. At NBA Top Shots, basketball fans can buy and sell "moments" video clips from the last seasons of the competition that exist as NFTs on the Blockchain.
This is not the first time when NFTs have been used by a professional sports league; however, it is without a doubt the biggest one. CryptoSlam estimates that up until now, the total value of all transactions between users has already reached $370 million.
What's important about NBA TOP Shots is that they started hype around fan engagement through NFT tokens.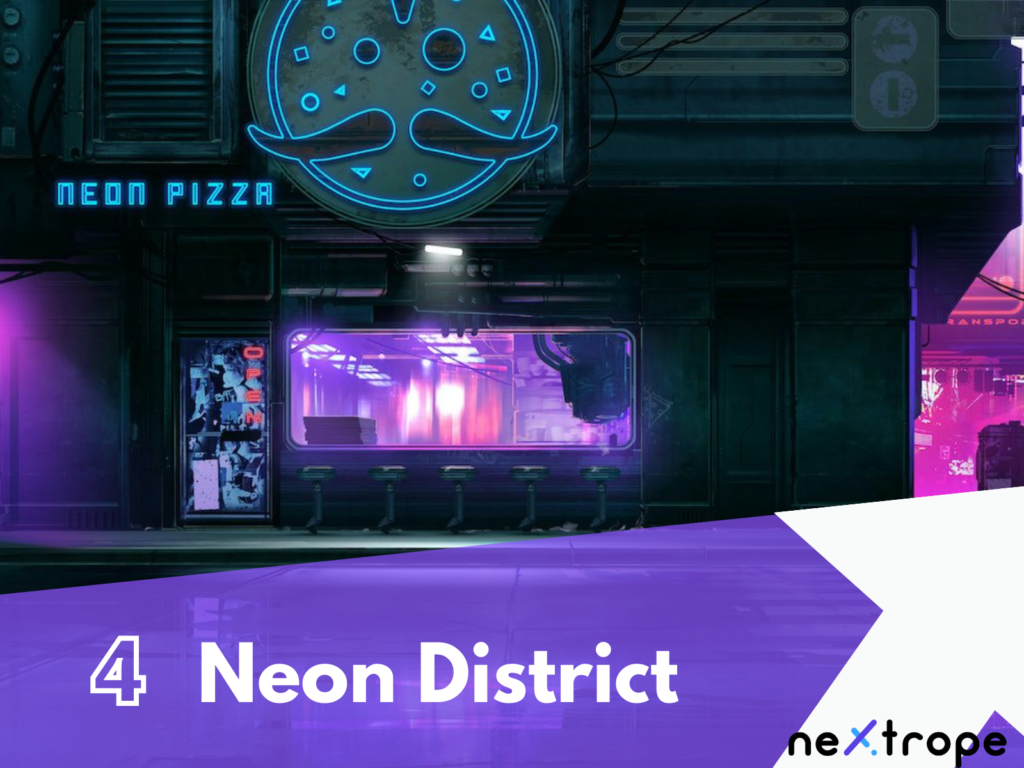 Neon District
Neon District is a cyberpunk role-playing game that allows players to collect and trade characters and gears that are unique virtual assets. Neon District is one of the coolest NFT games right now, redefining how many players think about them.
Thanks to NFT, almost everything can be sold there. The price is determined by supply and demand. Furthermore, during tasks, players earn the game's native tokens - $Neon. Those earnings can be used to buy in-game items. The tokens cannot yet be traded for other digital assets on external exchanges. But knowing other examples of NFT games is just a matter of time.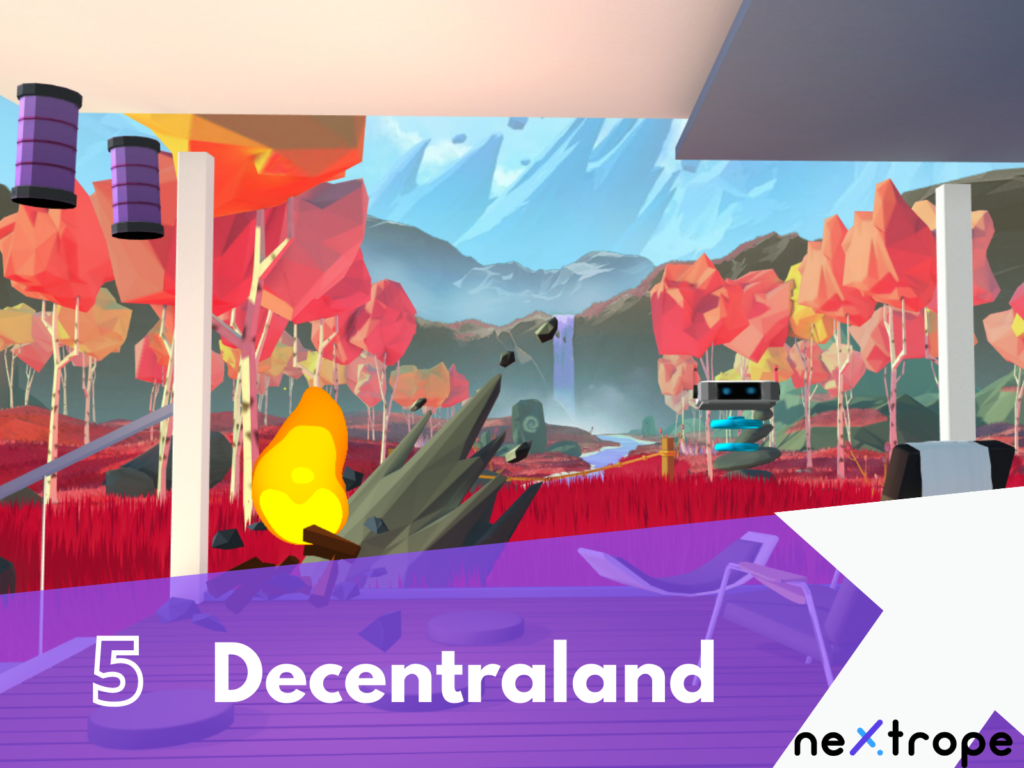 Decentraland
Metaverses have recently become a hot topic. If you want to know how they may interfere with the crypto world, check Decentraland - a virtual world built on Ethereum blockchain.
Decentraland is an NFT game that aims to create a global network of users exploring, creating, and trading in the virtual world owned by them. So far, Decentraland is a dynamically developing project, which earned its place among the best NFT games.
On Decentraland, users can trade sell digital land plots while interacting with the virtual world by playing games. Over time, creators added such features as digital payments or the ability to create interactive applications that will be used in virtual reality.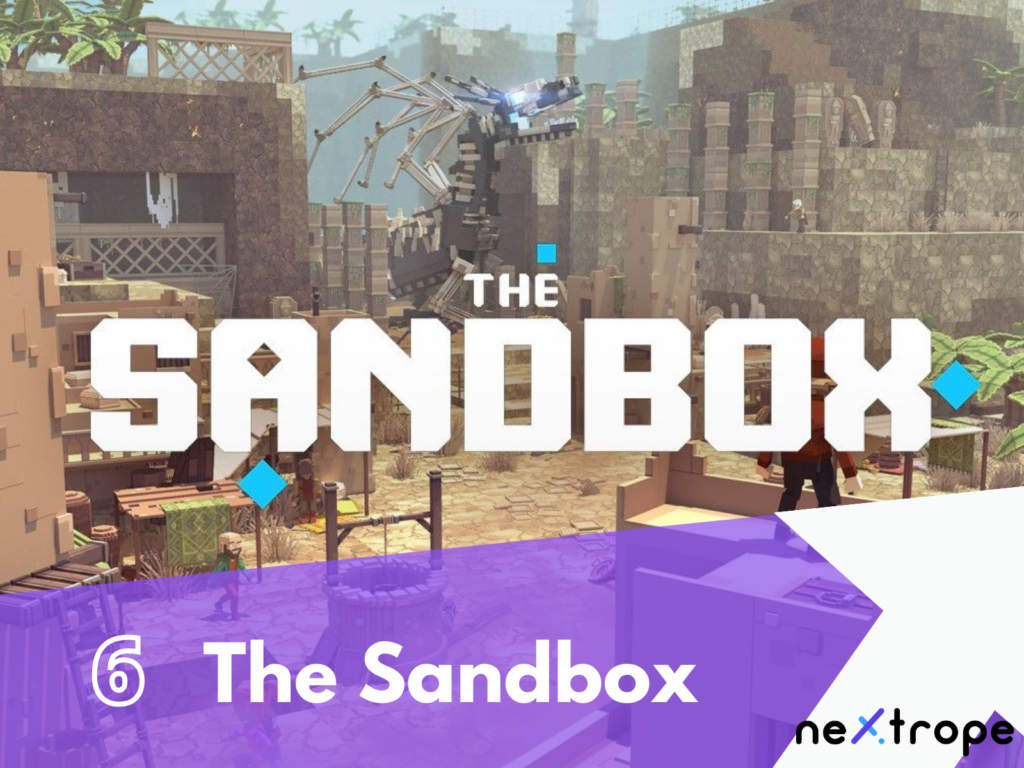 The Sandbox
The Sandbox is another NFT-based game that created its own metaverse. To date, it is one of the most popular NFT games for creating and trading in-game assets.
Like Minecraft or Roblox, this NFT game is voxel-based and offers an excellent opportunity to free users' creativity. The Sandbox provides them with tools for creating and animating NFT objects that can be used in-game or sold on designed markets. But that's not all - on the platform, users can also develop and play their games. Since users are able to make real money on their creations, The Sandbox is another example of play to earn the game.
Top NFT games - conclusion
Right now, NFTs is probably the fastest developing branch of the Blockchain world. Among different industries, the gaming business seems to be particularly important. Because NFTs can represent unique digital objects, they may completely change the way we think about in-game transactions and in-game objects.
What's unique about NFT games is how often they combine free-to-play with a play-to-earn model.
Although in the current NFT craze, many solutions that emerge every day will eventually turn out to be unnecessary, the NFT gaming world will most probably stay with us for long. Well-planned and developed projects, like those listed above, are one of its reasons.
Never miss a story
Stay updated about Nextrope news as it happens.