Top Tokenization Platforms in 2023: A Comparative Analysis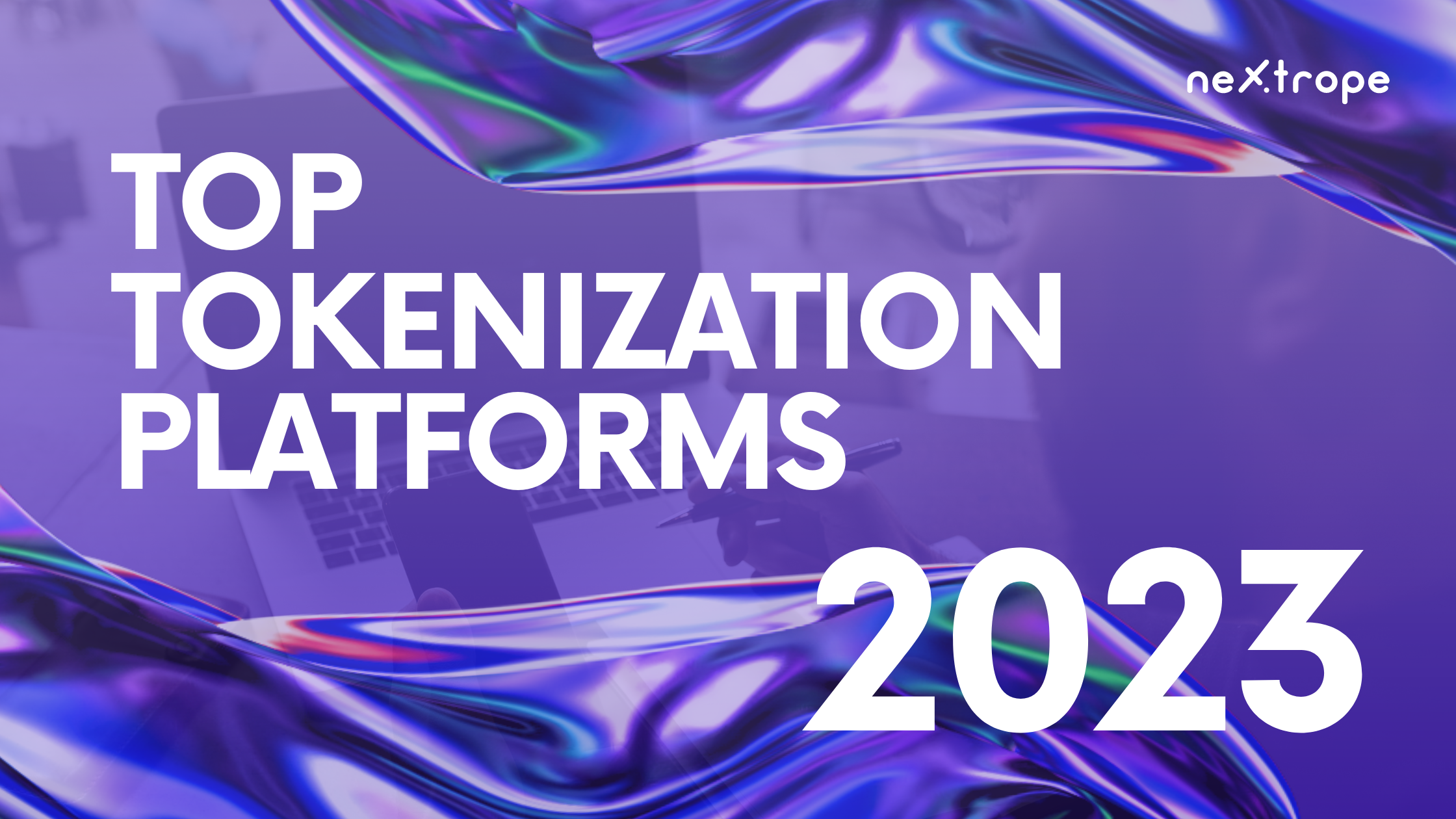 Tokenization has emerged as a groundbreaking innovation that leverages blockchain technology to transform traditional assets into digital tokens. By representing real-world assets digitally, tokenization provides new avenues for liquidity, fractional ownership, and global accessibility. In 2023, the adoption of tokenization platforms has reached new heights, enabling businesses to harness the power of blockchain, AI, and cryptocurrencies to create customized software solutions.
Choosing the right tokenization platform is crucial for businesses seeking to unlock the full potential of this technology. In this article, we will conduct a comparative analysis of the top tokenization platforms in 2023. By examining their features, achievements, and capabilities, we aim to provide valuable insights to businesses looking to embark on a tokenization journey.
Tokenization opens doors to a wide range of possibilities, including fundraising for new projects, crowdfunding companies, increasing the accessibility of real estate investments, democratizing art investments, and tokenizing various assets of economic value. As we delve into the comparative analysis of the top tokenization platforms, we will also highlight the benefits and opportunities presented by each platform's features and functionalities.
Top Tokenization Platforms
Nextrope Tokenization Platform is a reliable and innovative solution for tokenization. As a White Label Software-as-a-Service (SaaS) model, Nextrope Launchpad Platform assists businesses in launching their projects within a month and raising funds through Initial Coin Offerings (ICOs) or Security Token Offerings (STOs). Nextrope has been actively supporting tokenization since 2019, with a successful track record of completing eight tokenization projects. Through their platform, Nextrope has secured over $40 million USD in funding for their clients.
Key Highlights
Tokenize Everything with Nextrope Launchpad: Nextrope's platform allows businesses to participate in the broad financial market of digital assets, expanding their reach and finding investors globally.
Accessible and Inclusive Fundraising: Tokenization offers the most accessible and inclusive form of fundraising on the market, with fewer formal requirements compared to bank loans, crowdfunding, and initial public offerings (IPOs). It provides businesses with exposure to global investors.
Tokenize New Projects: Nextrope enables businesses to raise funding for new projects, providing quick access to capital when needed.
Tokenize Companies: Utilize the power of blockchain technology to crowdfund your company. Nextrope's platform offers immediate access to global markets, increased speed, reduced red tape, and more.
Tokenize Real Estate: Nextrope allows businesses to make their real estate more accessible to investors by tokenizing buildings and enabling partial ownership, thereby increasing the investor pool.
Tokenize Art: Through Nextrope's platform, businesses can make art investments available to a broad number of investors, fostering inclusivity in the investment landscape.
Tokenize Assets: Nextrope harnesses the potential of blockchain technology to digitize and tokenize virtually any object of economic exchange, providing businesses with a versatile solution for tokenizing various types of assets.
Nextrope Launchpad Features
Transaction Systems: Nextrope's platform facilitates the deployment of secure and fast payment solutions, offering clients and their customers convenient and trusted tools for payments.
Custom Digital Wallet: Nextrope provides a customized digital wallet solution for seamless token storage, transfer, and management.
API Development: Nextrope offers API development services, enabling businesses to integrate their tokenization platform with other applications and systems.
Financial Management Solutions: The platform includes financial management tools to streamline accounting, reporting, and compliance processes.
Cloud FinTech Solutions: Nextrope offers cloud-based FinTech solutions, providing scalability, reliability, and accessibility for businesses operating in the digital asset market.
Transaction Automation: Nextrope's platform automates token transactions, enhancing efficiency and reducing manual intervention.
Databases and DevOps: The platform includes robust databases and DevOps support, ensuring secure and efficient data management for businesses.
Tokenization Development: Nextrope specializes in token development, leveraging their expertise to create customized tokens that meet specific business requirements.
For Token Issuers
Adjustable KYC Process: Nextrope's platform offers an adjustable KYC process that balances compliance with user experience, making it easier for token issuers to onboard investors.
Token Development: Nextrope's experienced team assists in the development of customized tokens for businesses, aligning them with their specific requirements.
Integration with AML Scoring System: Nextrope integrates with an Anti-Money Laundering (AML) scoring system, providing administrators with instant AML information about registered clients.
Flexible Token Management: The platform supports flexible token management, including token vesting and instant token transfers, allowing issuers to define single or multiple rounds of ICOs with progressive token prices.
Automatic Token Management: Nextrope's platform automates the token distribution process, sending tokens to customers once they make the payment.
Investment Meter: Token issuers can showcase the amount of capital raised on the main page, instilling confidence in potential investors.
Admin Account: Nextrope provides token issuers with an admin account that includes features such as a registered investors list, KYC waiting list, and comprehensive investor management capabilities.
Fireblocks Tokenization Engine is a powerful platform that simplifies the process of tokenization, providing businesses with the tools they need to create and manage stablecoins and security tokens securely. The platform offers a comprehensive suite of features to facilitate the full lifecycle of tokenization, including minting, burning, and secure token transfer.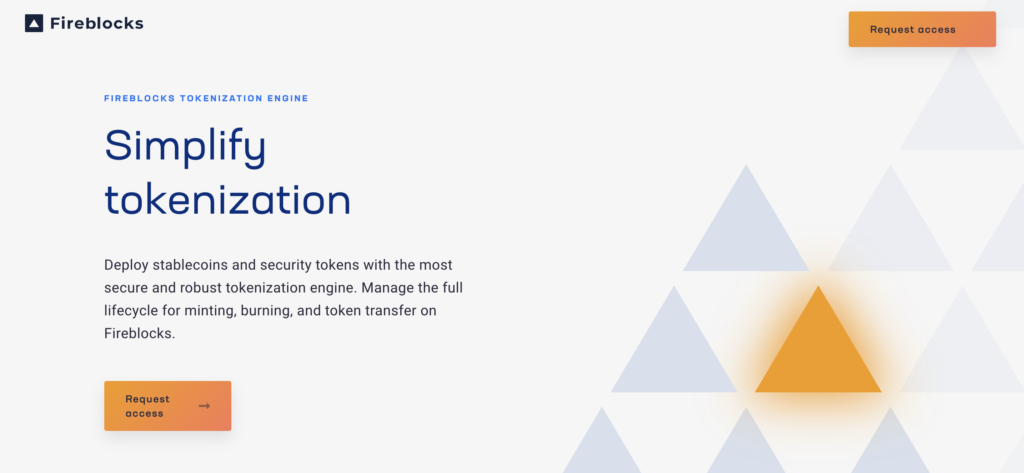 One of the key strengths of Fireblocks Tokenization Engine lies in its ability to enable the creation and redemption of fiat-backed stablecoins. Financial institutions and payment service providers can leverage this feature to manage smart contracts, obtain whitelisting approval, and ensure secure custody of digital assets.
Features and advantages
Tokenizing Any Asset: The platform empowers businesses to create both stablecoins and security tokens, allowing for the representation of a wide range of assets in a digital format.
Secure Token Storage and Transfer: Fireblocks ensures the secure storage, transfer, minting, and burning of tokens, protecting them against potential threats and unauthorized access.
Day-to-Day Token Operations: The operations dashboard provided by Fireblocks simplifies the management of token operations, making it easy for token operators to handle tasks such as token minting, burning, and transfers.
Fireblocks Tokenization Engine enhances liquidity by facilitating token trading and transfer on a secure and decentralized platform. By integrating with efficient exchanges, businesses can enable seamless trading and connect with a vast pool of trusted investors.
Furthermore, the platform's global market presence is bolstered by its integration with distributed blockchain networks. This integration enables businesses to reach mature secondary market players worldwide, expanding their investment opportunities and global footprint.
Operational transparency is another key aspect of Fireblocks Tokenization Engine. The decentralized nature of security tokens ensures clear ownership and management visibility, eliminating the need for intermediaries and reducing the risk of fraud or misuse during deal execution.
The Omni Layer is a software platform built on top of the Bitcoin blockchain, offering a comprehensive solution for creating and trading custom digital assets and currencies. As a software layer built on the most popular and secure blockchain, Bitcoin, Omni transactions are essentially Bitcoin transactions that enable advanced features and functionalities.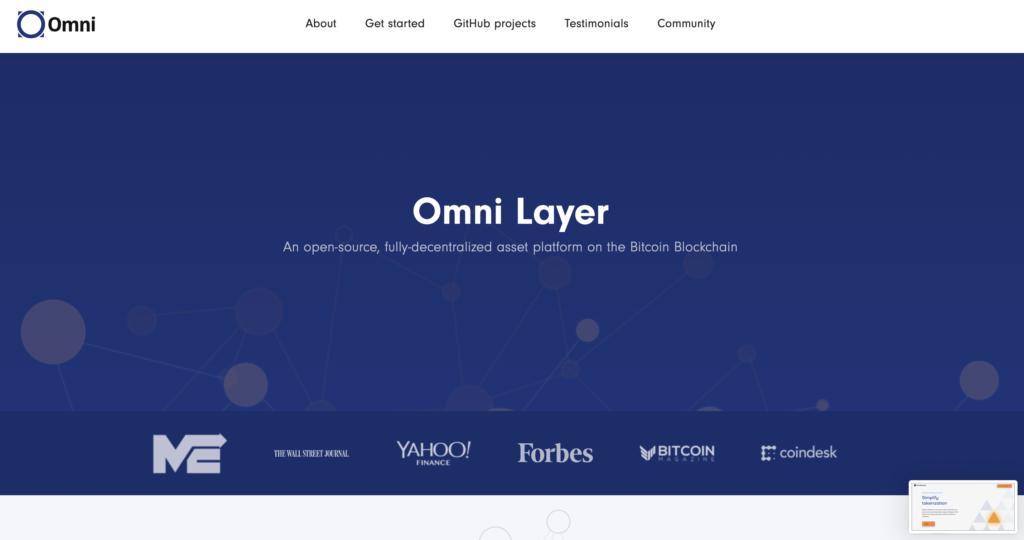 One of the primary advantages of Omni is its simplicity in creating tokens to represent custom currencies or assets and transacting them via the Bitcoin blockchain. This simplicity has contributed to Omni becoming the leading Bitcoin-based token protocol, offering power and ease-of-use for businesses and individuals alike.
Key features
Custom Currency Creation: Omni allows users to easily create tokens that represent custom currencies or assets. These tokens can be transacted and tracked on the Bitcoin blockchain, providing a secure and transparent means of exchanging value.
Blockchain-Based Crowdfunding: Omni supports decentralized crowdfunding, allowing crowdsale participants to send bitcoins or tokens directly to an issuer address. In return, the Omni Layer automatically delivers the crowdfunded tokens to the sender without the need for a trusted third party.
Peer-to-Peer Trading: Participants can utilize the distributed exchanges provided by the Omni Layer to exchange tokens for other tokens or bitcoins directly on the blockchain. This peer-to-peer trading capability eliminates the reliance on centralized exchanges, offering greater control and security over token transactions.
Web Wallets and Integration with Exchanges: Omni provides easy-to-use and secure web wallets, enabling users to store and manage their tokens conveniently. Additionally, the platform is integrated with top Bitcoin and altcoin exchanges, facilitating seamless token trading and liquidity.
Integration with Bitcoin Core: Omni's server daemon is based on Bitcoin Core, making it easy to integrate with existing Bitcoin infrastructure. This compatibility ensures a smooth integration process for businesses and developers looking to leverage the Omni Layer.
Fully-Validating Desktop Wallet: The Omni Layer offers a fully-validating desktop wallet and client based on Bitcoin Qt. This wallet provides users with complete control over their tokens, allowing them to securely send, receive, and manage their assets.
Tether Integration: Omni is also known for its integration with Tether, a stablecoin backed by bank trust and redeemable for SWIFT. This integration provides users with access to a stable digital currency that can be used for various purposes within the Omni ecosystem.
Pixelplex.io is a leading provider of custom Security Token Offering (STO) development and consulting services. With their expertise and innovative solutions, Pixelplex.io assists businesses in revamping their operations using security token services tailored to their specific needs. By leveraging the Pixelplex.io STO platform, businesses can swiftly reach their goals while capitalizing on the opportunities presented by security tokens.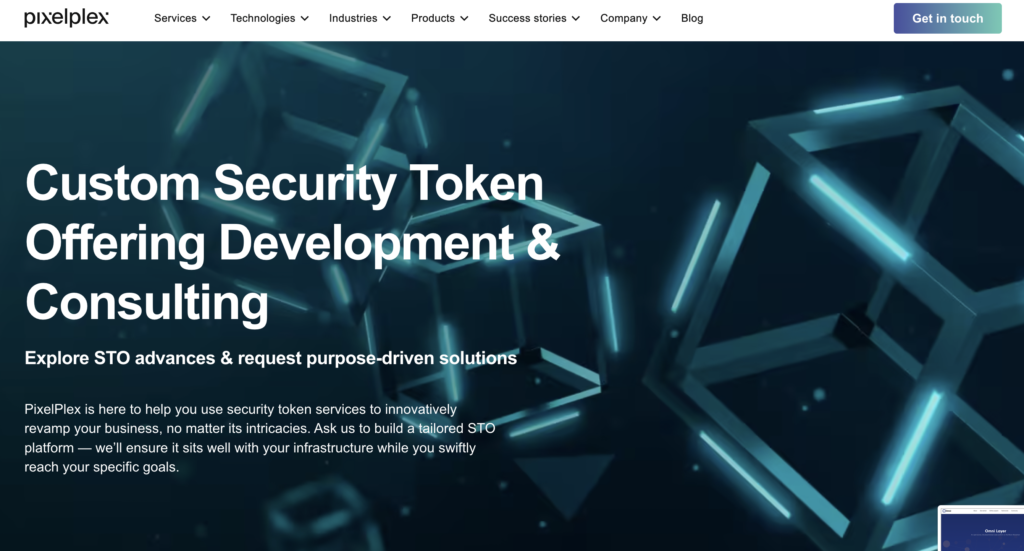 The Pixelplex.io STO tokenization platforms offers a range of features and benefits to businesses seeking to access top-scale investment opportunities worldwide.
Key advantages
Personalized Security Token Offering Platforms: Pixelplex.io develops customized STO platforms that align seamlessly with a business's existing infrastructure. These platforms are tailored to meet the unique requirements and objectives of each client, ensuring a highly targeted approach to fundraising and investment.
Advanced Liquidity: The platform enables businesses to attract rich funding quickly by integrating with efficient exchanges. This integration facilitates the seamless trading and transfer of security tokens, connecting businesses with a wide pool of trusted investors and enhancing liquidity.
Global Market Presence: With security token offering platforms built on distributed blockchain networks, businesses can expand their market presence globally. Whether it's a large-scale offering or a smaller one, the platform provides access to mature secondary market players worldwide, increasing exposure and opportunities for investment.
Operational Transparency: Security tokens inherently promote transparency in ownership and management. By utilizing security tokens on the Pixelplex.io platform, businesses can execute deals without relying on banking intermediaries, minimizing the risk of fraud or misuse. The platform ensures clear visibility into ownership and management throughout the entire process.
Automation and Cost Efficiency: Powered by smart contracts, the Pixelplex.io STO platform offers automation and cost-efficiency benefits. Real-time asset distribution and dividend payments can be executed through self-executing smart contracts, reducing manual intervention and optimizing resource allocation.
Pixelplex.io provides comprehensive consulting and development services to guide businesses through the implementation of security tokens. They offer expertise in analyzing the feasibility of security token implementation, designing unique solution roadmaps, estimating potential spending, and engineering custom platforms that take into account the specific requirements of each business.
Conclusion
In conclusion, tokenization platforms have revolutionized the way businesses approach fundraising, investment, and asset management. The top tokenization platforms in 2023, including Nextrope Tokenization Platform, Fireblocks Tokenization Engine, Omni Layer, and Pixelplex.io STO Platform, offer unique features and advantages to businesses looking to leverage the power of blockchain technology. These platforms enable businesses to tokenize a wide range of assets, raise funds globally, increase liquidity, and foster transparency and efficiency in transactions. Whether businesses are looking to launch new projects, tokenize companies, real estate, art, or other assets, these platforms provide the necessary tools and capabilities to unlock the full potential of tokenization. It's important for businesses to carefully consider their specific requirements and goals when choosing a tokenization platform that best suits their needs.
Start fundraising for your project within one month with Nextrope Launchpad Platform! Contact Us!
Never miss a story
Stay updated about Nextrope news as it happens.