The NFT boom isn't over yet. In fact, it has barely started. The new Solana NFTs projects prove that. What do you need to know about the solutions that may bring NFTs to the mainstream for good?
You are probably aware of the many NFT projects built on the Ethereum or Binance Smart chain. In fact, the Ethereum blockchain still remains the most popular solution for minting and selling NFTs. Yet, because of skyrocketing gas fees and general system network overload, the need for alternatives is constantly increasing. Recently, one strong competitor emerged: Solana.
Solana blockchain
Launched in 2020 by the Solana foundation, Solana Blockchain aims to solve scaling problems that struggle with most of the contemporary blockchain protocols. Its main objective is to support DeFi ecosystem growth by fitting in the so-called blockchain trilemma: decentralization, security, and scalability.
Combining those three factors seems to be the holy grail of the blockchain world. Many projects succeed in supporting one or even two of the factors, but fail when it comes to others. Solana engineers believe that they have implemented all three.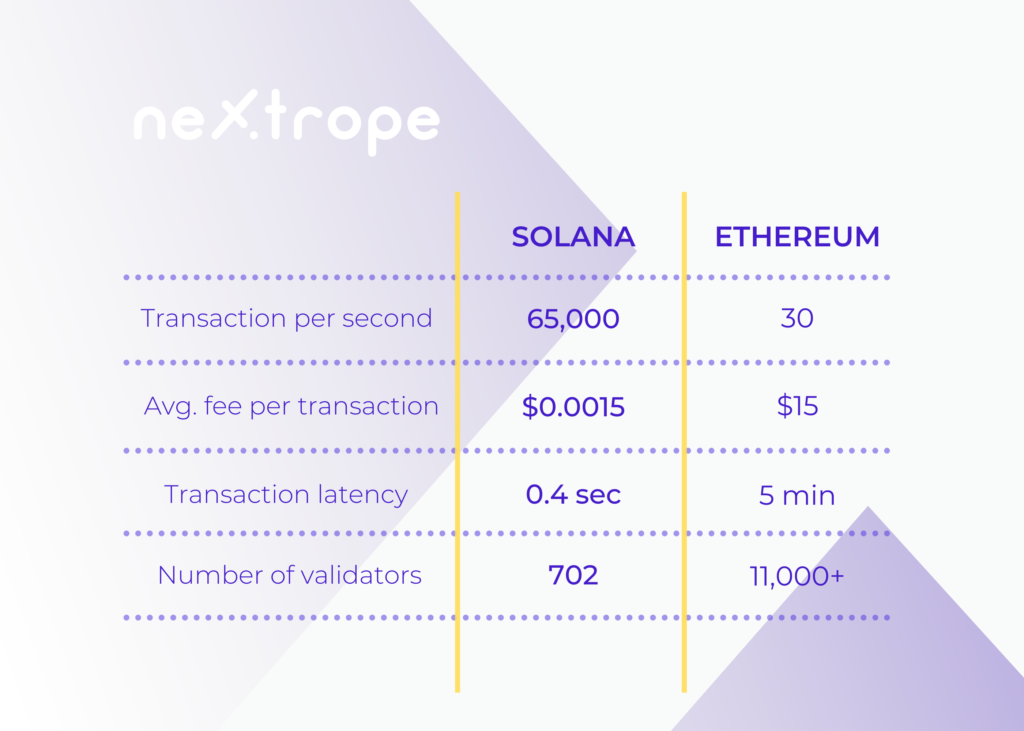 The hybrid consensus algorithm
Solana is a third-generation blockchain that, unlike other blockchains, uses a hybrid consensus algorithm. To be more precise, it combines proof-of-history (PoH) with proof-of-stake (PoS). Due to that, it's able to process over 50,000 transactions per second. For comparison, Ehereum can't handle more than 30 at a time. Now you know why expectations toward Solana are so high.
SOL
Did Solana creators succeed? Its native currency, SOL, quickly became the 8-largest cryptocurrency with a capitalization of over 43 000 000 000 USD. Therefore, maybe we can assume that they did… At least many believe that.
Solana NFTs
Ok, so we have a fast, very promising blockchain with quickly increasing popularity. Why shouldn't we use it for NFT minting? Many of the recently emerged NFT projects prove that it might be a tremendous idea.
What new possibilities can the Solana ecosystem bring to the world of NFTs? Think about 3D NFT or whole NFT-based games with mechanics mostly performed on-chain. Because of high gas prices, it would never be possible on Ethereum. The low fees and high speed that Solana offers may open entirely new doors for NFT development.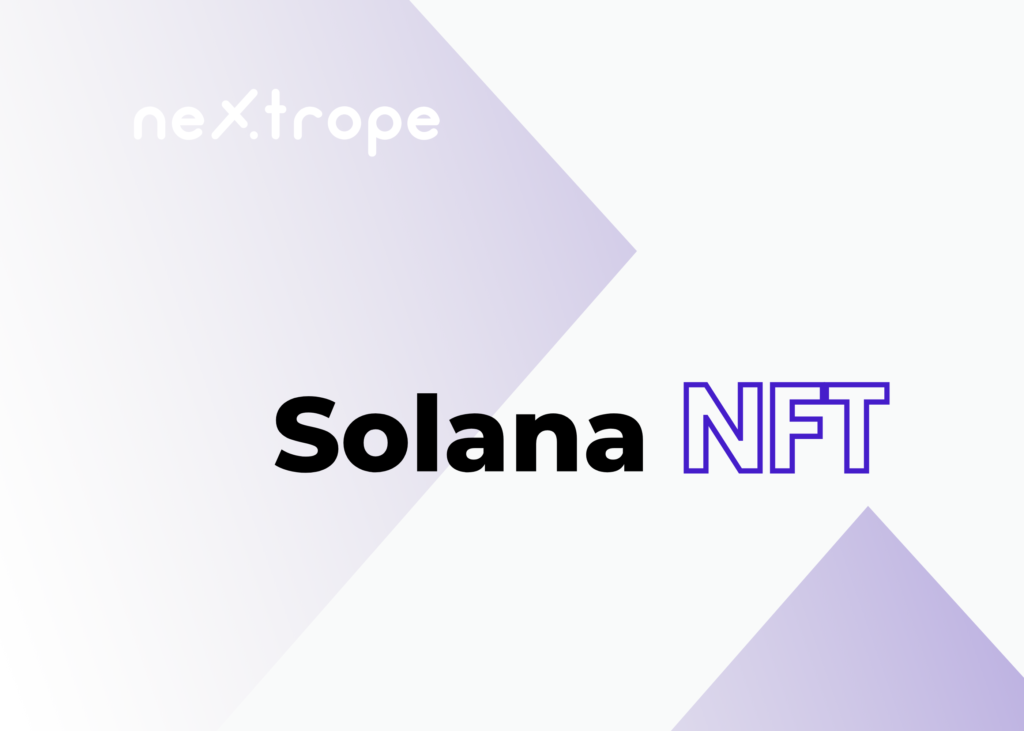 Solana NFT projects
During the last few months, we have observed a true boom among Solana NFTs marketplaces. I'd like to give you a few examples of the most interesting projects:
Solanart
According to its creators, Solanart is the first fully developed NFT marketplace build on the Solana blockchain. With many great projects listed on it and many more to come, it is more than promising.
Lollapalooza x Solana NFT
Do you still have doubts that NFTs will change entertainment for good? Check how Lolapalloza, one of the biggest music festivals in the world, enables fans and artists to connect directly by launching their own NFT marketplace.
Lolla NFT is one of the first projects of this kind and it's built entirely on the Solana blockchain.

Building the Solana NFT marketplace
If you're thinking about launching your own NFT platform, the Solana blockchain is an important option to consider. Low transaction fees and high speed bring totally new possibilities that attract both creators and investors. After all, it's a great way to capitalize on one of the most recent trends in the blockchain industry.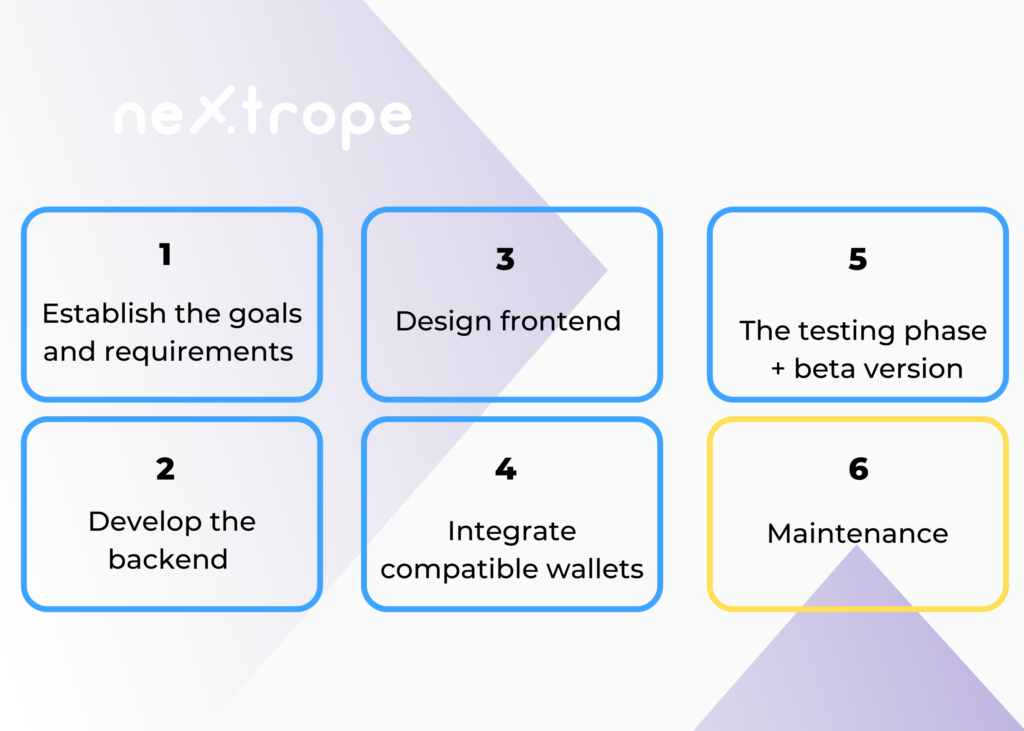 Building the Solana NFT Marketplace Step by Step
Establish the goals and requirements for your new project.
In this phase, don't forget about legal aspects. Different jurisdictions have different regulations. You must be aware of that.
Prepare a White paper.
It should summarize all the new features you want to include in your marketplace. Not sure how to write a White paper? Choose a blockchain development company that can handle more than just software. In Nextrope, our clients often decide on complex services which start with the business and legal consulting.
Develop the backend of your exchange.
Here you are going to need the best professionals available. Make sure they are familiar with the Solana blockchain as well as they have previous experience with creating a scalable NFT marketplace. Check out our article Blockchain developer – how to hire the right professional to learn how to find the right specialists.
Design frontend.
Quality UX and UI are your keys to success.
Integrate compatible wallets.
Enable your users to store their NFTs in a secure way. One of the most popular choices for Solana NFTs is Phantom Wallet.
On every stage directly involving blockchain technology, you will have to decide between hiring developers in-house and outsourcing them. Our article on outsourcing vs insourcing blockchain may help you.
The testing phase.
Make sure everything is on point. Fix all the bugs and glitches.
Prepare beta version.
Check if platform operation complies with your requirements.
Maintenance.
Work on the marketplace doesn't stop with its launch. If you decide to hire a custom software development company, make sure they will also handle maintenance and further development.
Conclusion
Solana is one of the fastest developing phenomena in the DeFi. Same as NFT. A combination of the two may be the next great trend in the industry. With the abundance of new possibilities, we can expect a rapid growth of new NFT projects in the Solana ecosystem.
Low transaction fees and high speed combined with top-notch security are good reasons to consider Solana while building your own NFT marketplace. If you are looking for a technology partner that will help you choose the right blockchain and develop a scalable solution, contact our professionals who will be happy to answer all your questions.