DeFi has seen a gigantic growth of nearly 1000% in 2020, and as decentralized finance continues to gain popularity, this number continues to grow. What DeFi trends will be crucial this year?
By the end of last year, the total value locked up in DeFi had managed to exceed $26 billion. By comparison, just a year ago there was just 831 million locked up in DeFi protocols. DeFi's incredibly rapid growth in 2020 helped set the stage for another wave of adoption in 2021. Because despite such rapid growth, DeFi still remains a very young industry with plenty of room for innovation.
If so, what DeFi trends are worth keeping an eye on in 2021?
Proof of Stake (PoS) as a consensus mechanism
One of the most important DeFi trends in 2021 will definitely be the displacement of Proof-of-Work (PoW) by Proof of Stake. PoW is currently the most common consensus algorithm used in blockchain networks to confirm transactions. Its operation relies on the use of computing power to secure and verify data.
So-called miners play a key role for its operation. Essentially, "mining" is the process of creating a block of transactions to be added to the blockchain. The function of miners is thus to process pending transactions in exchange for rewards in the form of cryptocurrency, such as ETH in Ethereum (respectively, 2 ETH for each block generated).
Generating a block requires the use of a lot of computing power due to the difficulty level set by the Blockchain protocol. It is proportional to the total amount of computing power used for mining and serves as a way to protect the network from attacks, as well as tune the rate at which subsequent blocks are created.
Disadvantages of PoW:
high energy intensity
networks prone to centralization of extraction
- limited scalability
- relatively low throughput
It was Ethereum, the world's most popular Blockchain protocol, that initiated the widespread transition from Proof-of-Work to Proof-of-stake algorithm. In 2021 with the next phases of updates - Ethereum 2.0, Ethereum networks will fully transition to PoS.
DeFi trends : What changes PoS brings?
Significantly lower energy consumption
improved scalability
decentralisation behaviour
Proof of stake is a consensus process by which a cryptocurrency becomes a validator for a Blockchain network. By using PoS, the security of the network is achieved through financial commitments rather than the consumption of computing power - energy. The validator runs software that confirms the transaction and adds new blocks to the chain.
To become a full validator in Ethereum 2.0 , you will need 32 ETH. However, there will be an opportunity to join a pool of smaller validators and thus offer a smaller stake. When processing transactions, validators will take care to maintain consensus over the data and thus the security of the entire network.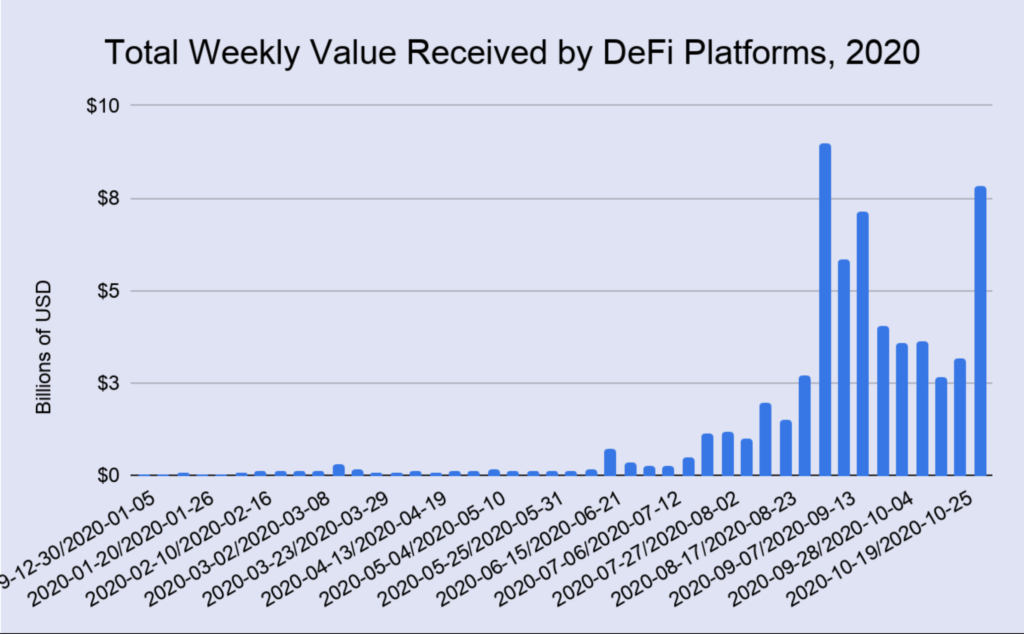 Liquidity of pledged tokens
However, PoS has one drawback: validators receive rewards for staking, but at the same time they freeze the pledged funds. In 2021, it is definitely worth watching what solutions to this problem the market will come up with.
Already today, DeFi platforms are starting to allow validators to create synthetic versions of their pledged tokens, which can then be used in cryptoeconomics. An example of this is Fantom's Liquid Staking, which allows pledged tokens to be converted into sFTMs, which can then be traded on Fantom Finance or used to mint stablecoins.
The ability to give liquidity to pledged funds makes this form of investment significantly more attractive. Therefore, due to the growing importance of PoS, it can be expected that the increase in the popularity of such solutions will be one of the most important trends in DeFi in 2021.
DeFi Trends: Stablecoins
Currently, stablecoin supply has surpassed $26 billion, with $20 billion added to the market through 2020 alone. Tether USDT has remained the main player for years, holding as much as 79% dominance. The stablecoin market is thus invariably dominated by the US dollar. However, as the sector matures and the macroeconomic effects of government stimulus packages become apparent, we can expect stablecoin secured in other currencies to grow rapidly in popularity as well.
Increase in importance of DEX
The latest report from Kraken Intelligence finds that nearly 96% of blocked ETH is on decentralized exchanges - DEX or lending protocols. While the amount of ETH blocked in lending protocols still outpaces that on decentralized exchanges, the growth for DEX in 2020 was far more robust. The total amount of ETH on the DEX grew by as much as 2,800%, when it only grew by 60% on lending protocols. The report indicates that at this rate, "DEX will soon control the vast majority of TVL (ETH) in the DeFi space."
DeFi trends in 2021 - summary
The year 2020 was undoubtedly an extremely favorable time for decentralized finance. That's when DeFibecame a permanent fixture in the blockchain community, attracting the attention of even those not previously associated with the technology.
But what if 2021 turns out to be an even better year for the sector? The growing public interest and numerous innovations aimed at improving scalability make it possible to consider such an eventuality highly probable. That's why many DeFi enthusiasts are looking at the current year with an almost decreasing optimism.