The Crypto community unites to help Ukraine. Since Russia invaded the country on February 24, millions of dollars in crypto donations have been pouring into Ukraine from all over the world.
The drama of Ukrainian society did not go unnoticed. Soon after the Russian troops entered the country, volunteer groups and NGOs opened crypto funds to support Ukrainians with humanitarian help. In just a couple of days, they raised over 5 million dollars in total.
Ukrainian government started accepting cryptocurrency donations
This small success was quickly followed by Ukrainian officials. On Saturday, February 27, the Ukrainian government used Twitter to ask for cryptocurrency donations to help fight against the Russian military. According to Forbes, it was a matter of just four days before almost $100 mln in crypto were raised.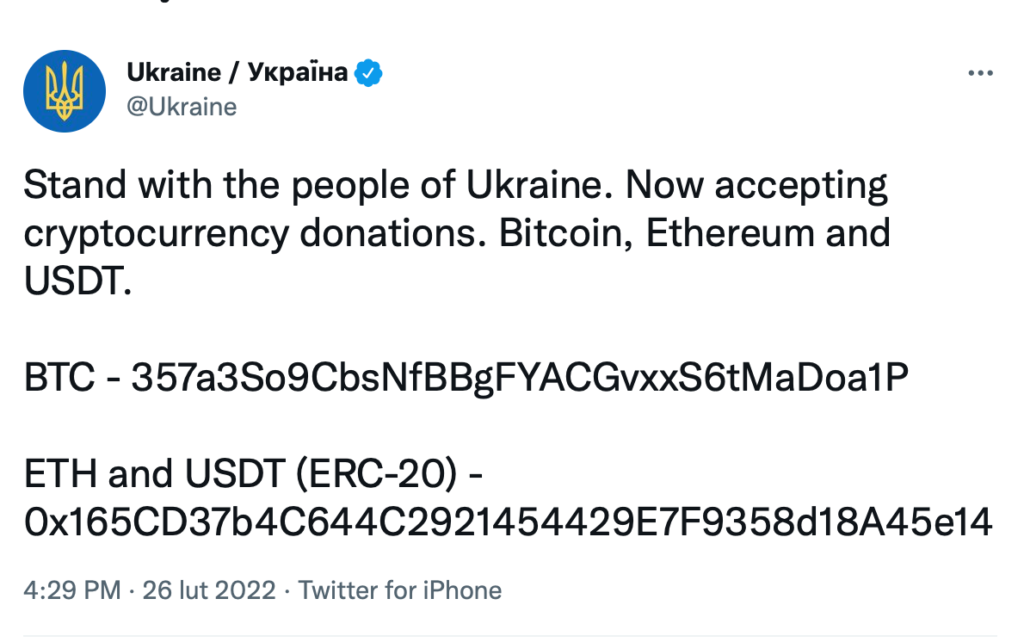 "We are evacuating people, so we are sending money to buy gas, food, and water for the people who are leaving. We are sending some money to the local military personnel who can buy some supplies locally," said Michael Chobanian, founder of Kuna, a Kyiv-based crypto exchange responsible for setting up the government's digital wallets. 
Initially, the action was focused only on the most popular cryptocurrencies: Bitcoin and Ethereum. Yet over time, the country started to accept a broader range of digital tokens, including Polkadot, Solana, or even Dogecoin. Moreover, the Ukrainian government received a significant number of non-fungible tokens, including some of the most valuable NFTs on the market.
NGOs facilitating crypto donations
As we mentioned before, the government isn't the only one that collects crypto to help the cause. Numerous Ukrainian and foreign NGOs and private companies started to collect crypto for Ukraine. Aims range from humanitarian help to military funds, depending on the organization's agenda.
Come Back Alive is one of the most prominent organizations working on the cause. The NGO focuses on supporting the Ukrainian military's response to the Russian invasion. Come Back Alive was previously active on Patreon, from which it was removed due to the platform policy regarding military fundraisers. However, the foundation quickly found its second life thanks to UkraineDAO - a crypto collective raising decentralized aid for numerous Ukrainian organizations.
"Blockchain allows us to scale our efforts in a way that wasn't possible for us before," said Nadya Tolokonnikova from Ukraine DAO, in an interview with the New York Times. "The old ways of raising money sometimes are really slow and just clumsy."
Military fundraising for many isn't an option, yet importantly, a significant number of such charity collections focus solely on humanitarian help. An example of that is Crypto for Ukraine - an initiative uniting the crypto holders to raise funds for medical assistance, food, hygiene products, and other utilities necessary for survival. Crypto for Ukraine works in direct collaboration with Polish Humanitarian Action.
Are cryptocurrencies the future of fundraising?
Without a doubt, cryptocurrency donations are just a small part of financial help sent every day to Ukraine by private donors. Yet, they set a new path for NGOs and charities from all over the world.
According to Michael Chobanian from Kuna, during this crisis, crypto proved to be more efficient than traditional payment methods.
"It's tough to [send money] using traditional methods. First of all, it takes a lot of time. Secondly, it's a lot of bureaucracy and so on. Here, we are fast. So we receive money and we spend it almost immediately," he told CoinDesk.
Cryptocurrency donations - what do you need to know?
As in the case of any humanitarian crisis, there are individuals that have no compunction about taking advantage of it. Among genuine crypto collections, scams and extortions abound. Therefore, everyone who wants to send crypto must remember about due diligence. You should never trust an anonymous crypto wallet without checking the details.
Luckily there are crypto projects that can help you on that matter. For example, The Giving Block - a charity curator facilitating fundraising powered by Blockchain technology, which requires a voting process to be featured on the platform