Innovations that enhance user experience and broaden the scope of technological capabilities are always in the spotlight. One such groundbreaking development is the implementation of "Account Abstraction" on Starknet. This concept, although technical, holds immense significance for both everyday users and developers within the blockchain ecosystem. In this article, we delve into the intricacies of Account Abstraction on Starknet, exploring its transformative potential and how it's reshaping interactions in the blockchain world. Our goal is to demystify this complex topic, providing you with a clear understanding of its implications and benefits.
Understanding Starknet
Starknet Overview
Starknet, developed by StarkWare, represents a cutting-edge layer 2 scaling solution for Ethereum. Its primary aim is to enhance the scalability and privacy of Ethereum transactions by using STARK technology (Scalable Transparent ARguments of Knowledge), a zero-knowledge cryptographic proof. This technology allows for massive throughput increases while ensuring data privacy and security. Since its inception, Starknet has rapidly gained attention for its potential to address some of the key challenges faced by blockchain networks, such as high gas fees and slow transaction speeds.
MUST READ: What is Account Abstraction
Key features
High Scalability. By offloading computation and storage from the Ethereum main chain, Starknet significantly reduces congestion and fees.
Increased Privacy. STARK technology ensures transaction privacy, a critical feature for many users and applications in the blockchain space.
Enhanced Security. The framework offers robust security features, leveraging the inherent security properties of Ethereum.
Demystifying Account Abstraction
The Concept of Account Abstraction
Account Abstraction is a revolutionary concept in the blockchain world, initially proposed for Ethereum and now being implemented in platforms like Starknet. At its core, account abstraction blurs the traditional lines between contract accounts and externally owned accounts (EOAs). In typical blockchain models, these two account types have distinct roles and capabilities. Externally owned accounts are controlled by private keys and are used for basic transactions, while contract accounts are governed by their code and can execute more complex operations.
The abstraction of these accounts means treating all accounts as smart contracts, simplifying the user experience, and expanding functionality. This unified approach allows for more complex and automated transactions, akin to traditional banking services, but within the blockchain's decentralized framework. This shift not only streamlines operations but also opens up new avenues for smart contract development and deployment, making blockchain technology more accessible and versatile.
Benefits of Account Abstraction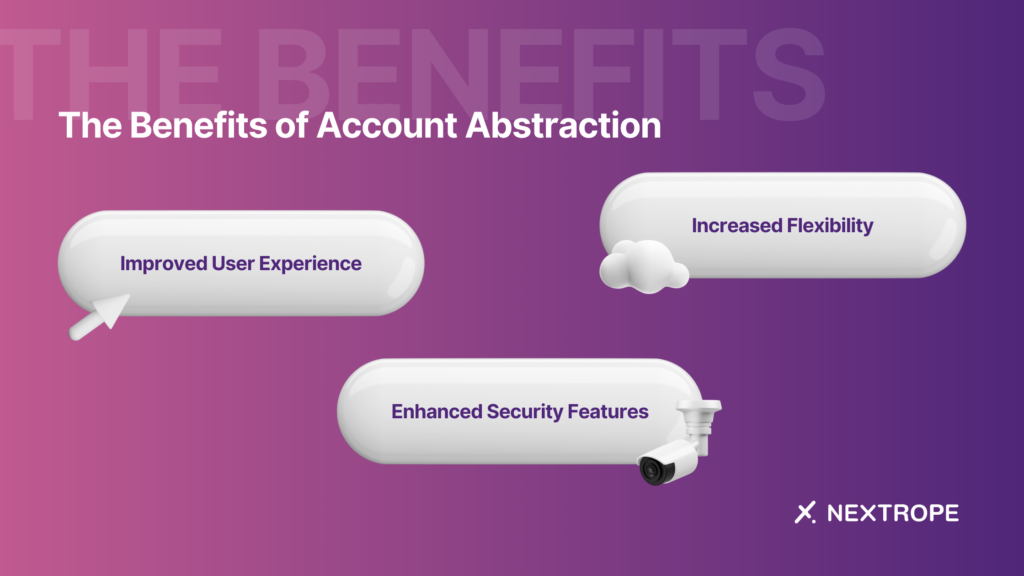 The implementation of account abstraction brings several key benefits to the blockchain ecosystem:
Simplified User Experience. Users can interact with the blockchain with greater ease and flexibility. For instance, multi-signature wallets, which previously required complex smart contract interactions, can become more straightforward and user-friendly.
Enhanced Security. By allowing users to set rules for transaction execution in their accounts (such as limits on withdrawal amounts or the need for multiple signatures), the risk of theft and unauthorized access is significantly reduced.
Increased Flexibility for Developers. Developers gain more control over how transactions are processed and validated. This facilitates the creation of more sophisticated DApps and services on the blockchain.
Interoperability. With a unified account model, the compatibility between different types of transactions and interactions across the blockchain is improved, leading to a more seamless experience.
Account Abstraction in Starknet
MUST READ: Native Account Abstraction: Opening Blockchain to New Possibilities
Implementing Account Abstraction on Starknet
Starknet's integration of Account Abstraction represents a significant leap forward in the blockchain domain. Unlike traditional blockchain networks that distinguish between user accounts and smart contract accounts, Starknet treats all accounts as smart contracts. This approach not only streamlines the user experience but also enhances the network's flexibility and functionality.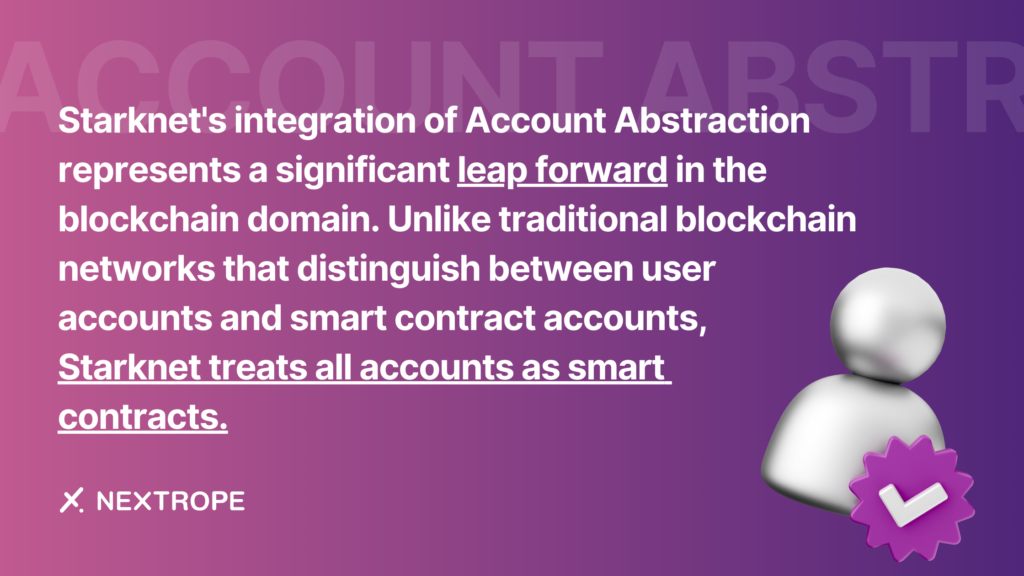 Technicals
The technical implementation of account abstraction in Starknet involves several key aspects:
Unified Account Model. In Starknet, all accounts, whether they belong to individual users or are part of a decentralized application (dApp), are treated as smart contracts. This uniformity simplifies interactions and transactions on the network.
Customizable Transaction Logic. Users and developers can define custom rules and logic for processing transactions within their accounts. This could range from simple validations to complex, multi-step processes.
Enhanced Security Features. Starknet's account model allows for built-in security features, such as multi-signature verification and recovery options, directly within the account's smart contract.
Ethereum Compatibility. Despite these advancements, Starknet maintains compatibility with Ethereum, allowing users to leverage the benefits of Account Abstraction while staying connected to the broader Ethereum ecosystem.
Practical Applications and Use Cases
The implementation of account abstraction on Starknet opens up a plethora of practical applications and use cases, some of which include:
Simplified Wallet Interfaces. Wallets on Starknet can become more user-friendly, with built-in security checks and automated transaction processes, making them more accessible to the average user.
Advanced Financial Instruments. The flexibility in transaction processing allows for the creation of sophisticated financial tools and services, such as automated escrow services, complex multi-party payment schemes, and advanced trading strategies.
Enhanced dApp Development. Developers can create dApps with more complex logic and user interactions, paving the way for applications that were previously difficult or impossible to implement on traditional blockchain platforms.
Innovative Governance Models. Starknet's account model facilitates the development of decentralized autonomous organizations (DAOs) with intricate governance mechanisms, enabling more democratic and efficient decision-making processes.
Account abstraction on Starknet, therefore, is not just a technical enhancement; it's a paradigm shift that expands the boundaries of what's possible in the blockchain space. By simplifying user interactions and providing developers with more powerful tools, Starknet is setting a new standard for blockchain functionality and user experience.
The Future of Account Abstraction on Starknet
Upcoming Developments and Updates
The journey of account abstraction on Starknet is ongoing, with continuous improvements and updates being planned and implemented. These future developments are expected to further refine the technology, making it more robust, user-friendly, and versatile.
The innovative approach of Starknet in implementing account abstraction is likely to have a significant impact on the broader blockchain landscape. This impact can manifest in several ways:
Setting a New Standard. As more users and developers experience the benefits of account abstraction on Starknet, it could set a new standard for user experience and functionality in blockchain platforms, influencing future blockchain developments.
Inspiring Innovation. The success of Starknet could inspire other blockchain platforms to adopt similar models, leading to a wave of innovation in the blockchain space.
Expanding Blockchain Adoption. By simplifying the user experience and enhancing the capabilities of blockchain applications, Starknet's approach to account abstraction could play a key role in driving wider adoption of blockchain technology across various industries.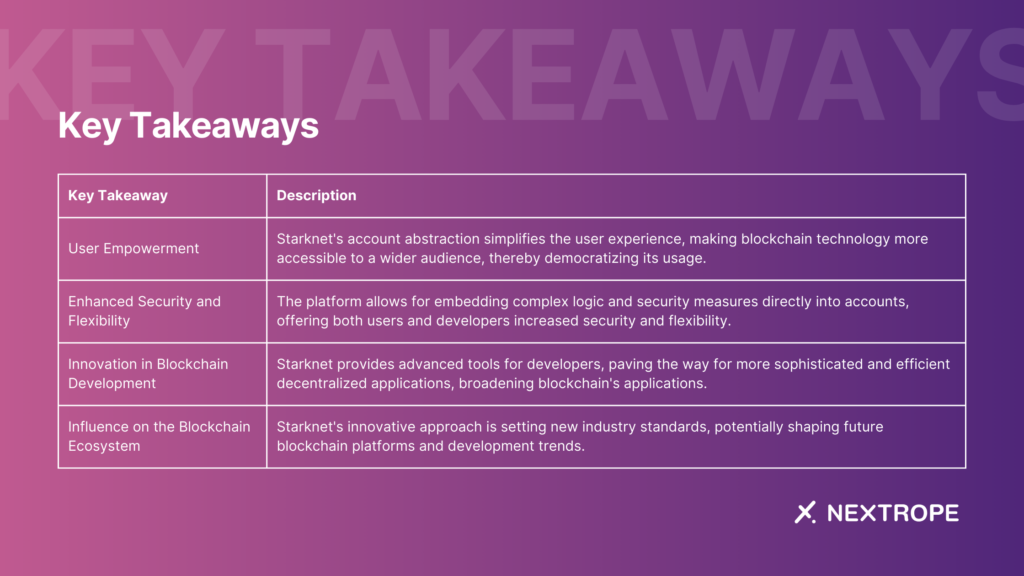 Conclusion
The exploration of Account Abstraction on Starknet reveals a significant advancement in the blockchain realm, showcasing a perfect blend of innovation, user-centric design, and technical prowess. Starknet's implementation of this concept signifies a pivotal shift in how blockchain technology can be approached and utilized.