Back
Alior Bank: a durable medium solution developed with Ethereum public Blockchain.
First in Poland implementation of public Blockchain in a banking sector that solves a durable medium issue.
Alior Bank SA is a universal bank and the 10th largest financial group in Poland with more than 6 000 employees and over 108 mln PLN net income for Q1 2021.
It is a highly innovative institution that implements technological solutions including Blockchain. Alior Bank together with the largest regional insurance company, PZU runs a tech accelerator for FinTech startups - RBL_Start.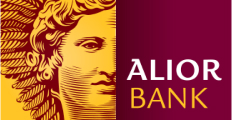 The Durable Medium Issue for Financial Sector
European Law enforces companies that enter into distance contracts to meet broad regulations. One of the requirements is delivering to customer terms and conditions, pricing tables and tariffs, etc. in a form of a 'durable medium'. A traditional form of such medium was printed documents usually delivered by post. Digital transformation of businesses opened paths to change this practice and use websites and dedicated urls. The question was dedicated URLs are 'durable'? That was addressed by courts that defined dedicated urls as not meeting formal requirements. Respecting legal requirements companies and financial institutions must guarantee a truly Durable Medium.
Blockchain technology is an answer to the problem.
Next Enterprises has provided the bank with a technology service related to the bank's implementation of a project using Blockchain technologi es. As part of the cooperation, the company made the service available in the SaaS model, maintaining a solution on its servers, ensuring its availability for the Bank and guaranteeing the quality consistent with the quality standards contained in the contract.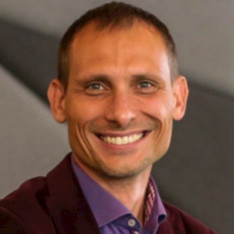 Tomasz Sienicki
Blockchain Strategy Manager at Alior Bank
Looking for an execeptional FinTech & Blockchain developers for your project?
Estimate Project
Alior Bank, likewise all banks in European Union, is obliged to deliver to their clients' commercial information in an imperishable and unalterable form. One of the forms was on paper by post. In the case of Alior bank, it is over a million paper letters annually.
The bank designed a solution to meet two requirements:
deliver reliable Durable Medium in a form of documents visible on Blockchain ledger,

become paperless and more eco-friendly.
For those reasons, Alior Bank sought a FinTech and Blockchain technology partner that will deliver integration of Ethereum Blockchain with Bank's online service and in the long run maintain the solution.
"Our team has focused to deliver the best possible communication and customer service for a corporate client. All the time we've kept in mind the structured decision-making process and formal requirements Alior Bank had. Our approach was to deliver recommendations and solutions simple and actionable for all stakeholders in the bank."

Michał Podsiadły
Backend Developer
The Bank's requirements for the project and the technology partner:
A team of the best experts in FinTech and Blockchain in the CEE

Compliance with bank's formal requirements i.ex. Business Continuity Management Plan

Meeting bank's IT security requirements

Service availability and scalability

Delivery time

Communication fit
A corporate verification process
Alior Bank selected Nextrope as a technological partner which proves Nextrope's both organizational and technological readiness to work with the most demanding brands.
Reliable
Since 2019 Nextrope maintains the service within strict SLAs and performance requirements.
Transparent and resilient Durable Medium
Nextrope has delivered the API, in a SaaS model, allowing Bank to publish transactions on the public Ethereum network.
Secure
The project is 100% compatible with the bank's most rigorous IT security requirements.
"Polish Bank Alior uses Public Ethereum Blockchain For New Document Authentication Feature"
Read more on
Nextrope's team has developed and provided an online service for block-sharing of transactions from Alior Bank. It is an element of a permanent system carrier offered by the Bank. After successful integration with the Bank's infrastructure, the service is maintained by Nextrope in the subscription model.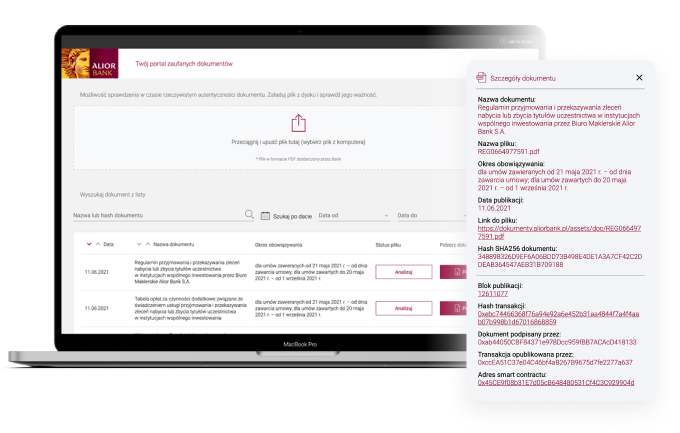 All the document updates are available for the public and bank customers in a public ledger based on the Ethereum network. The solution serves as a Durable Medium.

Node.js with Loopback framework for serving REST API

Ethereum node

PostgreSQL database

Nginx application server

VPN + Firewall
Key takeaways about Nextrope
Nextrope is a long-term partner for Alior Bank that proves our ability to meet both the highest technological and formal requirements set by large financial institutions within the Blockchain technology area.