Who are you?
As a Web3 Business Development Intern, you will be an integral part of our team that is working towards promoting and driving business growth through engagement with our target audience. You will focus on creating engaging content on our blog, developing and implementing business strategies, and acquiring a comprehensive knowledge of our products and services. You will be responsible for researching potential clients and competitors, generating and qualifying leads, and strengthening industry partnerships.
As a Web3 Business Development Intern, you will have the opportunity to learn and gain valuable experience in the rapidly growing fields of blockchain and cryptocurrency.
Who are we?
At Nextrope, we are a team of experts in digital transformation, specializing in cutting-edge technologies such as cryptocurrencies, blockchain, dApps, and smart contract audits. Since our founding in 2015, we have been at the forefront of the decentralized ecosystem, working with clients from around the world and across a range of industries.
We seek driven and skillful interns with a fervor for business and digital innovation and a desire to learn from top industry experts. As a Nextrope intern, you'll engage in thrilling projects that will both challenge and motivate you. Gain practical experience working with up-to-date technologies and tools while being guided and mentored by our seasoned professionals throughout your internship.
Our company's culture is vibrant and inventive, dedicated to offering our interns a supportive and stimulating atmosphere. We believe in ongoing learning and progress, committing ourselves to assist interns in honing their abilities and furthering their careers.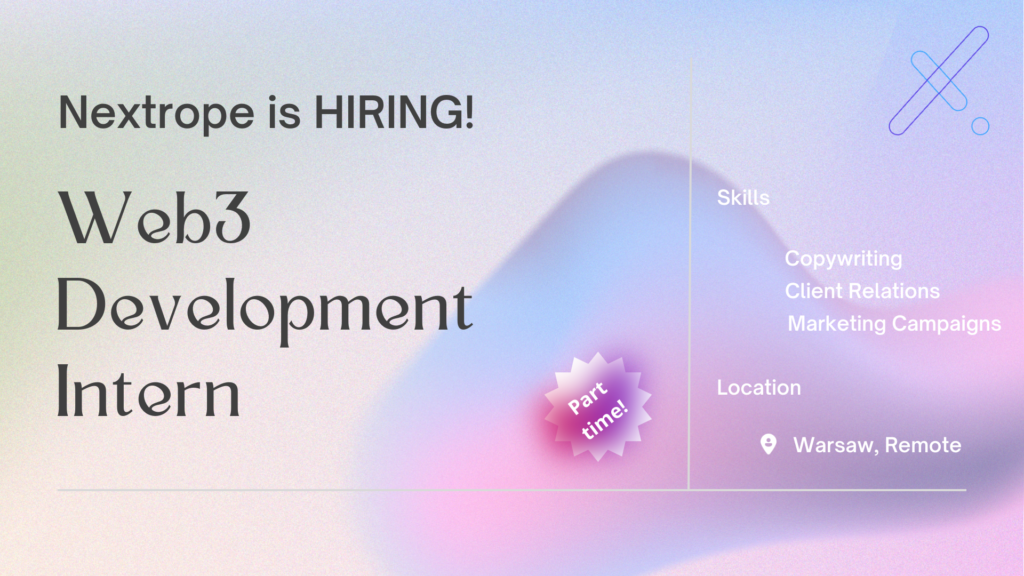 Role Responsibilities:
Create engaging content for our website, promotional materials, webpages, blog articles, social media posts and infographics
Support business development activities including researching potential clients, competitors, and market trends to help identify new business opportunities
Helping in generation and qualification leads through various channels, including outbound campaigns, inbound marketing and events
Acquire a comprehensive knowledge of our products and services to effectively convey their benefits to our target audience
Developing client relationships and strengthening industry partnerships
Designing, implementing and leveraging successful email marketing campaigns to partners and prospects
Contribute to the creation of key brand strategy components (e.g., mission statement, vision statement, messaging pillars for Nextrope).
Role Requirements:
A bachelor's degree (or during studies) in business administration, marketing, communications, or a related field
Outstanding written and verbal communication abilities
Passion for connecting with people to develop networks and identify business opportunities
Familiarity with Canva, Google Analytics and WordPress is an advantage but not required
Excellent communication skills including verbal and written communication, and interpersonal skills
Capability to work autonomously while collaborating effectively with cross-functional teams
Close attention to detail and the capacity to multitask in a dynamic environment
Understanding Blockchain or Crypto, relevant working experience is preferred
About Us
At Nextrope, our devotion to excellence, emphasis on innovation, and determination to achieve exceptional outcomes for our clients are what set us apart. If you're interested in joining a progressive team while learning from leading industry professionals, we encourage you to apply for an internship and reap the benefits:
Work in a rapidly expanding global rocket ship
Unlock a unique chance to contribute to Web3
Join a team that cares about its user, products, and working conditions
Work flexible hours and combine the role with your studies
Be fully remote
How to apply?
Send an email with your CV on: p.lewandowska@nextrope.com