Back
TCake Analytics tool for trading on Decentralized cryptocurrency exchanges
Learn how fast TCake was able to kick off the development of its analytical platform for traders
TCake - Pair & Pool Explorer - what is all about
TCake provides its clients with the tool enabling them to create accurate trading strategies and constantly observing and controlling the positions on decentralized exchanges. With TCake, the market analysis process is faster and easier.
TCake platform provides traders a convenient and clear access to minute-by-minute data on 400 currency pairs.
All currency pairs are displayed on Trading View charts. This allows Tcake users not only to create comprehensive analyses and have constant control over their purchases, but also to prepare investment strategies on PancakeSwap..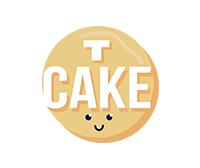 Crypto trading industry background:
Cryptocurrency trading market got its momentum and popularity due to the industry's technological advancement, external economic factors and mainstream popularity of the main coins - Bitcoin & Etherum. According to Coinmarketcap global crypto market cap reaches 1.7 T USDwith TradingView which is equal to GDP of Canada.
Decentralized exchange (DEX) is a new concept on the crypto market. DEXes are the answer to centralized cryptocurrency exchanges and disadvantages they are known for. The most important factors that give DEXes advantages are lower counterparty risk and low transaction costs thanks to the application of Automated Market Maker model.
In recent months, new DEX projects appeared on the market. With the increasing number of services available and their limitations in aggregating data on cryptocurrency pairs, traders find it hard to analyze and benchmark data needed to develop their investment strategies.
Most decentralized exchanges do not provide aggregated data on currency pair prices, which is an essential basis for traders to create in-depth analysis and trading strategies.
TCake faces the problem of trading data fragmentation and helps crypto traders with investment analysis and strategy development in a faster and more efficient way.
"The collaboration and communication with Nextrope team was on a very high level. We were impressed by the level of knowhow and responsiveness of them. What's more, we were very keen to get the project up and running as soon as possible. Nextrope was able to deliver a functional product architecture plan and start work on the project within the next two working days."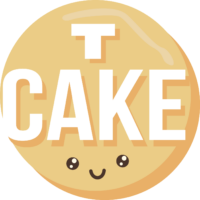 ~TCake Team
Looking for FinTech & Blockchain developers for your project
Estimate Project
Why TCake selected Nextrope for its technological partner
Our team has an extensive experience in crypto & Blockchain projects

Our team had a necessary know-how and was ready to start the project within a week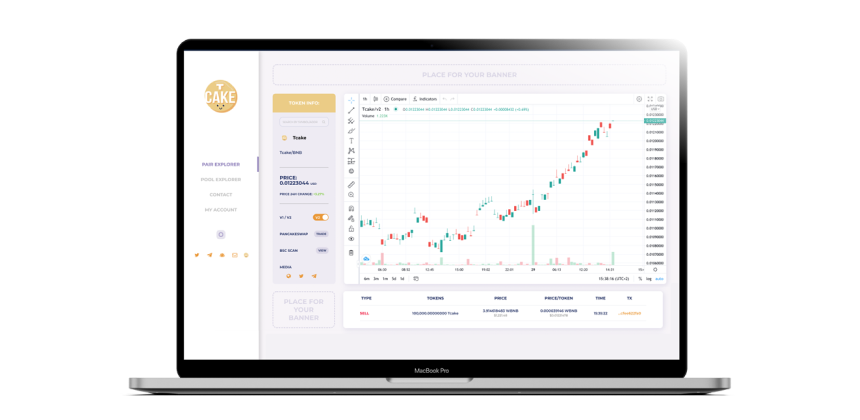 Efficiency and responsiveness of trading data

Managing input data presenting more than 400 crypto pairs

Scalability of servers

High transaction costs
Nextrope team has created a platform that allows users to monitor the prices of all the tokens listed on PancakeSwap and analyze them in detail.
Users have access to real-time data that updates every minute. This was possible thanks to the effective integration of the platform with TradingView which provides graphs and token data retrieved from the GraphQL API.
The team managed to achieve low transaction costs and plan the system architecture in an optimized way.
TCake gained extreme popularity within 24 hours of its launch; TCake token was ranked 2nd in terms of growth speed on the Binance Smart Chain.
TCake analytical tool serves as a reliable platform and ran smoothly serving more than 1500 entries at a time.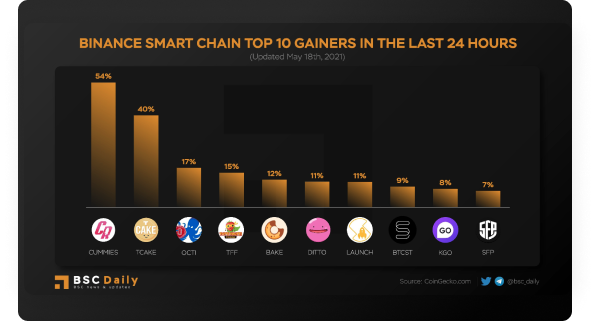 TCake Development Road Map:
Nextrope & TCake journey just begins, and our team has already started working on yet another tasks. The next feature of the platform is a Pool Explorer allowing users to keep track of selected Pools in real time. This is intended to be particularly helpful in making decisions about liquidity provision.
Node.js
Postgresql
Alior Bank: a durable medium solution developed with Ethereum public Blockchain
Alior Bank, likewise all banks in European Union, is obliged to deliver to their clients' commercial information in an imperishable and unalterable form. For those reasons, Alior Bank sought a FinTech and Blockchain technology partner that will deliver integration of Ethereum Blockchain with Bank's online service and in the long run maintain the solution.
Case study
TCake: Analytics tool for trading on Decentralized cryptocurrency exchanges
TCake provides its clients with the tool enabling them to create accurate trading strategies and constantly observing and controlling the positions on decentralized exchanges. With TCake, the market analysis process is faster and easier.
Case study
Silver Cryptocoin B.V. is a dutch company which sells physical silver online.
The company wanted to allow the investors a more convenient way of purchase and storage this commodity and to expand investment possibilities for buyers. Thus the crypto token appeared. Instead of buying physical silver, an investor can buy its digital equivalent on Ethereum Blockchain as ERC20 tokens fully backed by physical silver stored securely by the company. Investor can conveniently sell owned tokens on crypto exchanges or directly in peer-to-peer way.
Case study